There are lots of ways to ruin a Florida fishing trip. I've done a few of these myself. I hope by sharing my misfortune, you will become much smarter than I am and enjoy your fishing trip more than I did during my bad days.
Is it true that a "Bad day fishing is better than the best day working!"?
Sometimes. If you have a fishing trip planned for your once-a-year vacation and you dork it up, well then that bad day of fishing – which could be NO FISHING AT ALL – could be far worse than my best day working.
Anyway… here are 13 unlucky ways to ruin ANY FISHING TRIP.
1. Don't Make a Fishing Gear List!
If you don't make a list that covers everything you need to arrange for and bring to make your fishing trip a success – you deserve to fail! No, wait. Joking, joking.
Nobody deserves that. I once forgot my Florida fishing license and realized it just as I was pulling onto Key Biscayne on my way to some of the far Keys.
HOW in the world did I forget my license? This was during my college days and I wasn't making lists. I was tired of writing. You can be sure I make lists for EVERY TIME I GO FISHING now.
I didn't have anyone at my apartment that could get my license and mail it to me. I DROVE BACK to Tampa to get it!!!! It hurt. It hurt real bad. You can forget almost anything else, but DON'T forget your fishing license!
Make multiple lists if you have to. Put square checkboxes beside them and check them off as you finish each task. DO IT!
2. Think You Know Where You're Going Fishing – But You Don't Know Where You're Going
We're men. Most of us. before Google Maps, I'd probably picked up a map once in my life – to swat at a wasp. I used to just drive by in-built radar. I'd usually get there.
Sometimes not, but almost always I'd get there. If your fishing trip is of any importance at all – make sure you use online maps of some sort to ensure you get where you're going on time.
It's even more important if you have people relying on you to get them there! Swallow your pride and use a map.
Better yet, use the audio directions that tell you exactly where to turn so you look like an absolute fool in front of people, but at least you all get to the fishing spot when you're supposed to.
3. Don't Carry a Good Pair of Tweezers and a Photo Loupe (or good magnifying glass)
One thing I have learned since I passed 40 was that a good pair of tweezers goes a LONG WAY. Not only that, since I'm blind as a bat looking at objects close to my face, I couldn't see a bee-stinger if I tried without a good photo loupe.
Tweezers and a photo loupe will come in handy more than you realize. Recently I reached under the back of a bench as I was sitting – just to adjust my posture. I felt something squishy. Tarantula with 100 itchy hairs embedded in my fingers. Not fun.
Tweezers are a lifesaver. Also excellent for stinging insects, thorns, snake teeth, fish teeth, stinging caterpillars, and other irritants.
Add a SAFETY PIN to this kit as well, they're great for picking at the skin to get deep enough with the tweezers.
4. Don't Carry Aspirin, Tylenol, Ventolin Inhaler, Simple Allergy Pills, Betadine, Q-tips, Tissue, Toilet Paper, Allergy Eye-drops, PseudoFed, and Lidocaine Cream
This covers most of the stuff you or anyone else could need during a multi-day fishing trip.
5. Don't Test Your Rods and Reels Before Leaving
You walk out to the garage and pull out the rods you haven't used for a year. You see they still have the line on them. You think you're good. You arrive at that fishing spot you've been planning for weeks.
Your line is degraded and breaks constantly, or your reel is locked up, or a plastic part breaks after 2 turns.
Before any fishing trip, go over your tackle to see what condition it is in. Get in the habit of oiling down your reels before you put them away for the winter. Always do some yard casting before you go.
When you get on the road, you don't know where the best (and fair-priced) tackle shops are. Better to get the stuff you need before you leave. While we're on the subject, have an extra reel and rod available in case one breaks.
Do whatever you can to ensure this fishing trip goes PERFECTLY. I know, that's unlikely. Well, at least ensure nobody dies.
6. Bring Only Your Favorite Lures
Fish don't play by the rules. You have dark jigs because that's what you always use, and they always work. Then you arrive at that favorite fishing spot and you toss dark jigs all day and swear at your bad luck.
Truth is, if you only have dark jigs you'll never know if the lighter jigs would have worked. bring varieties of everything. Bring 6 lb. test line AND 15 lb. Bring 10 lb. test line AND 25 lb AND 60 lb.
One thing about fishing is that conditions change, and the fish you're targeting sometimes changes. You might head out to the pier to catch sheepshead with your buddies and all around you teens are smacking big king mackerels and you're hating life because you didn't bring your king mack rig.
BRING EVERYTHING. Leave something in the truck if you have to, but you'd better have a huge variety of gear so you're ready to target just about anything that might be biting.
7. Don't Bring a List of In-Season and Out-of-Season Fish!
When I first started fishing in Florida, I wasn't up to speed about which fish species were in or out of season. I caught lots of stuff and kept it when it wasn't in season. I was plain ignorant.
In Pennsylvania, where I grew up, I remember fishing for trout during a specific season, and that's about it. I don't know why, but I figured when I got my Florida license, everything was in season in saltwater.
That can be an EXPENSIVE MISTAKE to make!
8. Don't Bring Any Cash!
Most of the time we won't need cash. However, if you lose your card(s), then what? What if you're fishing on a pier and a guy is catching one of the most delicious fish in the ocean – pompano – by the dozen. He offers you some for $5. He's not taking credit cards.
Do you see the problem? What if the pizza place you're at for dinner tells you they can't accept cards because the machine is down. What then?
Bring cash everywhere. Don't tell anyone, but I keep some under my foot mat in my car just in case I might need it someday. Guess what? I did need it PLENTY OF TIMES! Cash is King. Or Queen. However you roll.
9. Bring Your Friend Who Talks Too Much
Look, we get it. Your friend is lonely. He doesn't get out much. He loves to fish. He keeps asking you when you're going. Finally, you crack and invite him out, not just for a night, but for a 3-day deep-sea fish. Worst. Decision. Of. Your. LIFE.
10. Forget Your Hat, Sunglasses, or Sunblock
The sun is a real killer. Even more so out on the water or on a pier where you're catching the reflections all day. Give your eyes a break by wearing dark polarized glasses that will allow you to see into the water despite the glare, and also save your eyes from soaking up all that sunlight.
11. Break the Speed Limit Getting to the Fishing Spot
Just an example of the speeding fines for Duvall and Orange County, Florida.

12. Forget to Bring the HAMMOCK(S)!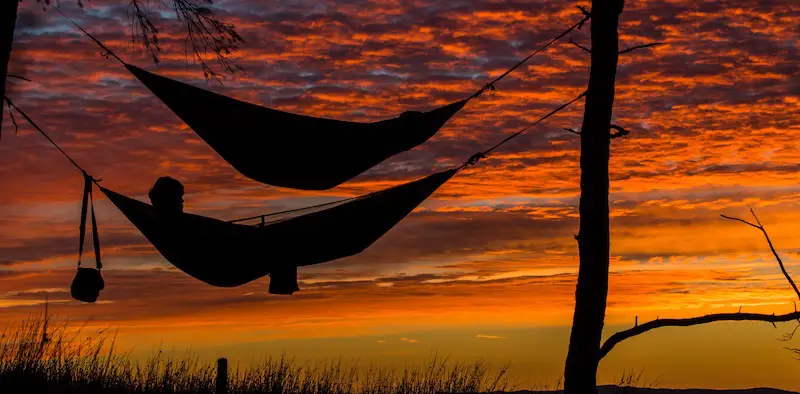 I hope by now in life you've been introduced to the pleasure of the hammock! The hammock is like a mother's womb. The ultimate in relaxation and comfort. If you're at a pier, you can attach one end to the guardrail and one end to your vehicle bumper.
If you're fishing the mangroves, you can string one up between the trees. If you're on a boat, you might be able to figure something out. Invest in some double-size parachute hammocks for around $50.
You WILL thank me later!
13. Pi** off the Fish Gods!
The last absolute SURE-FIRE WAY to destroy your fishing trip is to piss off the Fish Gods.
How you act during previous fishing trips has a very real effect on all future fishing excursions. If you've cursed the Fish Gods for bad weather, weak bite, or ANYTHING else, you will likely be harshly penalized during this trip.
Don't ever curse the Fish Gods for your own bad luck. THEY DON'T FORGET! I learned this from my uncle Fishrat Keryeski. God rest his fish-loving soul.
Other Fish Articles Readers Love:
[Images – featured image from unsplsh (T5lmpSYxnSU). All other images from same resource.]