I love this question. Not because I have any fish in the freezer or cooler, but because I can relive some of my favorite fish meals ever. When you get past 50 years old and you're a die-hard angler, you've probably eaten a LOT OF FLORIDA FISH. I certainly have.
I can't wait to share my top 10 pics for best fish to eat. Let's go!
What Makes a Fish Taste Good?
In some cases, the fish isn't all that great, but you make it in a way that tastes very flavorful. Sometimes you can make ANY fish taste decent, right?
I'm talking here about Cajun blackened fish specifically – which is fantastic with any sort of fish. Just catch something and cook it this way and you'll have a hit for your party. Not kidding.
Now, if you use a fish that naturally tastes fantastic, and has some nice texture, then you're into another culinary realm. For instance, Blackened Grouper sandwiches are one of the greatest foods to ever exist in the world. Mahi too – blackened mahi is incredible. Anyway, I'm getting ahead of myself.
Some fish naturally taste amazing even with just butter. Some you need to dress up a bit. The following list of Best Florida Fish to Eat lists fish that are awesome even without the special techniques, the special sauces, and the special preparation and spices.
These fish all taste really good whether plain or dressed up. OK, I'm dying to get going here…
#11 – Tripletail! OK, in truth, I don't know whether this is amazing fish to eat or not. It's the only one on the list here that I haven't tried. I just never had the opportunity. But, enough people have raved about it that I figured it must be on this list somewhere, so I'll slot it into number 11 here.
Have you had it? Is it mouth-watering? How did you have it? I'll have to try it, there is just so much other good fish to eat that I haven't had a chance. Let me know if you think this one belongs on the list.
#10 – Spotted Trout (Speckled)! The reason I almost killed my girlfriend while wade-fishing was because I loved eating speckled trout so much and I targeted the species often.
I figured it was an easy fish for her to catch, and she'd love fishing and want to come out with me often. If you have a girlfriend, boyfriend, or whatever, and you fish, you're going to want to somehow increase the number of days you get to fish.
This was supposed to be one of those smart moves. It turned out that I couldn't have been dumber. Read the story here.
Trout flesh is very tender and thin, and has a light taste that for me, tastes best with butter, salt, pepper, and maybe some onions and garlic baked in with it. Trout are easy to catch, fun to catch, and you'll almost surely like the taste a lot.
You've gotta try it. If you're fishing in Florida, you probably have either caught some trout, or you're close to it but didn't know it. Fish a shrimp or small baitfish through patches of seagrass to find them. Once you find them, you'll be getting steady hits and catches on a 1/0 hook.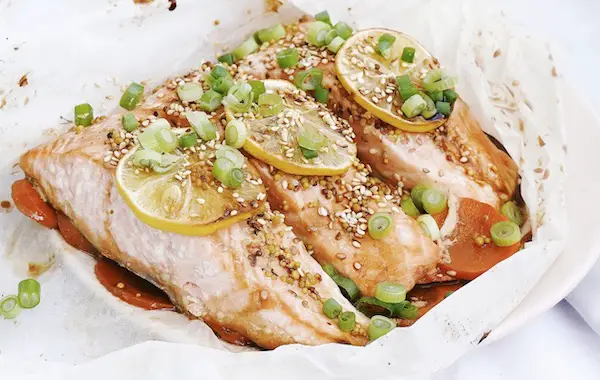 #9 – Pompano! I caught a couple of pompano, barely legal, and thought I'd bake them on my portable BBQ grill at the beach over on the east coast. I think I must have been somewhere near Sebastian Inlet, because that's where I usually was when fishing the East coast of Florida.
I was really happy about the taste. I had no butter, just salt and pepper. It was fine just like that. To be honest, I've not had pompano again, so I can't say much more about it. It definitely goes into the top 10 as one of the best-tasting fish from Florida waters.
#8 – Snapper (Red) but really, just about any snapper I've had is delicious. I tend to eat snapper in fish tacos, but when I used to just bake it, I was more than satisfied with it's mild taste.
I like snapper with garlic and butter, some black pepper, and some onions wrapped in the foil as I bake it.
#7 – Sheepshead! I caught my first sheepshead by accident. I knew what the name of it was and I knew it was legal, it was around 16 inches long.
I caught it down at Fort Desoto Park in St. Petersburg, Florida on the West coast south of Clearwater. I put it in the cooler and didn't expect much, but I wanted to try it.
WOW. I was pleasantly surprised for sure! One of the best tasting fish I've ever had. The flesh is pretty firm, they're strong fish. It flakes nicely and it tastes similar to Snapper, but I think it's a bit better than Snapper!
#6 – Snook! When I first had snook, I pulled one out of the freezer and baked it. I wasn't expecting much at all. I had heard that other people liked it, but I just couldn't imagine it was going to be any better than freshwater Bass – which was so-so in my opinion.
After cooking it up and having a few bites, I couldn't believe I had a couple more pounds of filets to eat! Snook is quite delicious, and
#5 – Wahoo! The best fish meal I've ever had in my life was on the island of Kauai at a restaurant on the water. I was twenty years old and was with my fiance (I married much too early, I know…).
I saw "Ono (Hawaiian word for wahoo which means 'the best.') in Walnut Sauce" on the menu. I thought, what the heck? It was about $45 and this was 1986.
We were only in Kauai for four days, so I thought I'd splurge and see how good it was. The waiter recommended it, and I asked, "Are you sure it's good?" He assured me it was. I have NEVER forgotten that meal. It was mind-blowing.
Sure I've had some mind-blowing fish dishes since then, but this one is definitely top 3. Possibly the BEST, it has been a few years!
Wahoo is frequently mentioned as one of the sea's most delicious fish meals. If you get a chance, have it in walnut sauce on a beach in Hawaii, or anywhere.
#4 – Mahi-Mahi! The first time I ate mahi-mahi (dorado) was at a restaurant in Lahaina, Maui on the water. They served it with a mango salad and mango sauce.
Oh my… I can still taste it. One of the best fish ever. Mahi sandwiches are about as good as grouper sandwiches.
#3 – Marlin! I was lucky enough to live on Maui for a year, so in our local fish shop they had marlin and tuna all the time. As I remember it was around $10 a pound for marlin. We definitely had our share! I don't think we lost too many brain cells from all the mercury, but who's to say really?
We'd always put marlin on a skewer stick with pieces of shrimp, tomatoes, and pineapple. I remember some fantastic camping adventures at Bellows Beach Park in tents and in villas on the beach. Ahhh, memories.
Anyway, I've not had marlin since, being too afraid of the mercury. I also don't eat kingfish. That's why you won't see it on this list, and most people love it. I've never had the guts to try it!
#2 – Seared Tuna (Seared ahi)! This could almost be first, or a tie for first, but I need to make a decision and blackened grouper is damn good!
Let's put it this way, I've had seared tuna that was better than grouper sandwiches and I've had blackened grouper sandwiches that were better than seared ahi. So… I don't know. Both are incredible!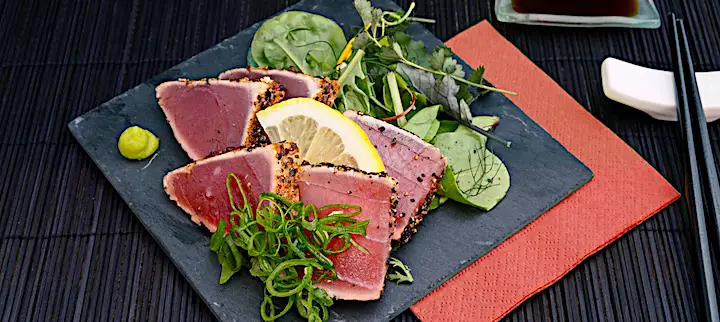 #1 – Grouper! The best Florida fish to eat is grouper! I mentioned the blackened grouper sandwich above. This is one of god's special gifts to mankind.
The texture of grouper is really hard to understand. It seems nothing like fish. It's too springy. It's too chunky. It's too wet. It's just bursting with flavor when you bite into a piece.
Florida has some amazing restaurants right on the beach where you can either walk up or pull up in your boat to the dock and have lunch or dinner.
There was a place in Clearwater fr the longest time by the beach volleyball courts where I used to go at least twice per month to get grouper sandwiches and she-crab soup. I mean, it was almost alien it was so good.
Oh WOW. I just found a video of how to make blackened grouper by a guy who works at the restaurant I'm talking about – FRENCHY'S!
If you haven't had a grilled and blackened grouper sandwich yet, you owe it to yourself. If you have family, partner, or friend, take them TONIGHT and get some blackened grouper.
A sandwich is best, with dripping cheese and tomatoes, toasted bun… but you can also find blackened grouper salads at most places.
Other Fish Articles Readers Love: