Florida has some of the best fishing in the world. The best Florida fishing means catching fish that are great fighters, and great eaters. Some fish are both, and some are just great fighters. Tarpon for instance! Here are our best suggestions for Florida's Top Fish!
Fish in Florida that are Fun to Catch!
1. Tarpon
The Florida Tarpon fish is highly regarded as Florida's top fighting fish. The biggest Florida tarpon caught was 243 lbs.! Tarpon (Megalops atlanticus) is without any doubt one of the top Florida fish to catch in terms of fun and challenge. Tarpon tournaments are widely participated in.
One of the top fighting fish in the world, the tarpon can grow to well over 100 lbs. and is solid muscle. There is little fat on tarpon, and they are very strong fighting fish which put on incredible aerial displays. Tarpon can jump so high, they sometimes knock anglers right off their own boat!
No joke, this is one fish that demands respect, and those who catch tarpon by kayak or other small boats, will tell you stories about how this incredibly strong game fish ruined their day at least once!
Check out our How To Catch Florida Tarpon Guide here.
2. King Mackerel
King mackerel are long silver fish with very big and sharp teeth. The Spanish Mackerel is closely related to the king mack. The Florida King Mackerel (Scomberomorus cavalla) is a great fighting fish that anyone can catch on a boat in Florida's Atlantic Ocean or the Gulf of Mexico and all the way down into South America.
King mackerel fish are known for their blistering fast first run. Kings are sometimes called called 'smokers'. Why? The line ripping off your saltwater reel at 100 yards in mere seconds can make your reel smoke! That's the folklore anyway! King Mackerals have a strong taste and yet are highly prized by some anglers. Bleed them and remove the dark lateral line for the best culinary experience.
3. Grouper
Florida Grouper fish is a very heavy fish that requires a strong effort or you'll lose it as it wraps around structure on the bottom. Catching a big grouper is like pulling up a heavy rock from the bottom of the ocean. It's exciting, sure!
There are many grouper species (Epinephelinae subfamily) found in Florida waters, and all of them will put up a strong fight.
You'll know you've hooked a grouper when you're deep sea fishing off a boat and your rod suddenly thunks on the boat's handrail and you hold on for dear life so you don't lose your expensive saltwater reel! It happens!
Grouper is a fantastic fighting fish, but even better is that grouper is one of the best tasting Florida fish to eat! Grouper sandwiches are available at all Florida coastal restaurants and you must try one (or a handful).
Check out our How To Catch Florida Grouper Guide here.
4. Snook
Florida Snook fish is a big silver fish with a visible lateral line that is hard-fighting and great tasting. If you gave us a choice today, catch any top fish in Florida – which one would I choose? Snook (Centropomus undecimalis).
I just love snook fishing. I like standing on the shore and spotting them near docks or boats. I like seeing snook in the mangroves and planting a little pinfish right next to them and seeing the water explode with the strike of a big snook!
I caught fish for years before finally trying to eat snook. When I did, my world changed! My first snook was frozen and thawed from my icebox. I wrapped it up in some foil with butter and sliced garlic, some salt.
Simple like that. It was some of the best fish I've ever eaten! Snook is certainly one of Florida's top fish to catch and you can catch them on the east coast of South America too!
Go get yourself some! Use our Florida Snook Fishing Guide here.
5. Dorado (Mahi-mahi)
Florida Dorado is the most brightly colored fish in the ocean, a wicked-hard fighter, and an absolute delight to eat on a mahi-mahi sandwich with toasted bread, cheese, and secret sauce.
Dorado fish (Coryphaena hippurus) is one of my top Florida fishing choices for sure. I highly recommend fishing for dorado at night from a bridge or fishing pier.
I used to go late at night to Gandy Fishing Pier (used to be the old Gandy bridge) between St. Petersburg and Tampa, Florida. Sadly, it's closed now due to instability. I attach one of my floating plugs about 5 inches long to some strong braided line (25 lb. or more) and toss it out there. I twitch it a few times, reel fast, and let it stop.
It's mind-blowing to watch dorado snake in for the kill because they light up the zooplankton and it the water glows so creepy!
A fantastic way to introduce your kids or spouse to night fishing in Florida, or anywhere you can find these fast and hard-fighting fish in Florida.
Dorado fish are found in the temperate regions of the world's oceans, as far up as New York in the USA and down to about midway of South America. Many sailors catch dorado to sustain them on long cruises.
Learn How To Catch Florida Dorado with our Guide!
6. Sailfish!
Sailfish like big blue marlin are incredible fighters, and even good to eat – as far as taste, but they have so much mercury (the chemical) stored in their body fat that it isn't advisable to eat it very often at all. I remember in Hawaii we could find fresh marlin in the fish shop daily.
I must have eaten whole thermometers of mercury over those six years! We had it grilled usually – with teriyaki sauce on skewers with tomatoes, pineapple, squid, and shrimp. Incredible fish to eat, but you should probably skip it!
Sailfish are certainly one of Florida's top fish to catch, but few people are able to catch them. Usually, they are in very deep water, hundreds and thousands of feet of water. They are so acrobatic and strong that it's difficult to bring one in even if you do hook one.
To be honest, I haven't caught a marlin! I don't get the chance to go far out away from land on a boat much. It's an expensive hobby!
7. Bonefish!
Some say the best fishing in Florida is bonefish! I don't, but some say that. Bonefish (Albula vulpes) are very hard to catch for a number of reasons. Mostly, they are super finicky fish that are very difficult to entice into a bite of your lure or live bait.
Every year die-hard bonefish anglers will hit the road from all over the nation to travel south to the Florida Keys to find and fish for (and sometimes catch) bonefish (also called grey ghost!).
Bonefish on a fly-rod is the ideal set up and some anglers will spend their entire vacation targeting the species.
Bonefish are not good eating, and so the thrill of catching them is over pretty quickly if you do land one. They have a blistering first run and can be very hard to spot because they spot you first and disappear! We just made a bonefish fishing guide and hope it helps you find and catch them. They're a real fun target fish. We haven't targeted these fish much in Florida.
In my own estimation, one of Florida's top fish is the redfish (red drum). Another of my absolute favorite fish to catch and eat. Redfish are (Sciaenops ocellatus) found over oyster beds primarily.
They have strong jaws and mouths to grind crabs, mollusks and other hard crunchy marine animals. I have probably spent more time fishing for reds than any other fish simply because they are tasty and put up a nice fight when hooked. The big redfish are strong and heavy and will try your patience!
Redfish are some of the best eating fish on the planet. The flesh is soft and slightly sweet. One taste of redfish is all you're going to need to hook you for life. I strongly recommend if you live in Florida, or visit, you target redfish for a bit.
Just free-line drift a shrimp or small pinfish off your kayak or from the shore into the current of an outgoing or incoming tide and wait patiently for a hookup.
If you want to know exactly How To Catch Florida Redfish – use our Guide!
9. Sheepshead
Best tasting fish in Florida? Sheepshead! Sheepies as they are known locally, are one of the best-tasting fish Florida produces. We like them grilled, fried, any way you want to sling it. Sheepshead has the most incredible taste and chewy texture. Strongly recommended!
Even if you don't like eating fish in Florida, try sheepshead and see what you think. Not fishy, and really unique, this is one of my top 3 tasting fish ever.
Sheepshead is found all over Florida over oysters, near a structure, by seawalls, by piers, pylons, boats, reef, anywhere they might see barnacles. They love to crunch barnacles. They can be hard to catch, but with the right equipment, you'll become an expert sheepy angler in no time.
Use our How To Catch Florida Sheepshead Guide to get started!
Gator trout are not big fighters but they are definitely one of Florida's top tasting fish! Gator trout (Cynoscion nebulosus) can be found over grassy beds generally in shallow water under around 6 feet or so.
A great place to catch lots of Gator Trout is in St. Petersburg, Florida on the west coast. Just drive south from the city almost to the Sunshine Skyway Bridge on Highway 275 South. Make a right when you see the signs for Fort De Soto Park. Head toward the campgrounds and park and either fish off the bank, wade fish, or fish from one of the Fort De Soto Piers.
Just walk out into the water about waist deep and start throwing a freelined shrimp and letting it drift. In no time you'll have either a pinfish or a gator trout. I've caught hundreds of trout in this spot.
Gator trout are mostly silver and have dark spots. They have two large teeth that resemble snake fangs. These are great eating fish with a very soft flesh and light taste. Another of Florida's best tasting fish!
If you're curious, check out our How To Catch Florida Speckled Trout Guide!
11. * BONUS – Largemouth Bass!
Largemouth Bass is one of Florida's top fish in everyone's book. Not only is bass an amazing fish to eat, but it's also a lot of fun as a target species because you can find them in lakes all over Florida state, and other southern states.
My first Florida largemouth bass (Micropterus salmoides floridanus) was at a small managed lake west of Tampa, Florida in a place called Brandon. This little lake was in South Brandon. It was filled with big bass, and my first one was a 5 pounder!
I had on a pumpkin-colored worm (Pumpkin Head) in a Texas rig and bounced it along the bottom with a twitch every now and then. BAM! The big bass grabbed it on the drop and I was in for my first bass fight. I loved it from the first day.
Freshwater fishing for big bass was easier than going to the ocean to catch saltwater fish, so I often just chose bass from the rivers and lakes around my home in Tampa.
Bass are not difficult to catch. Drop a 7-9″ dark-colored plastic worm jig to the bottom and twitch and reel one or two revolutions. Let it drop. Repeat. Bass hit lures all day long in some cases, but I prefer morning and evenings for the best Florida largemouth bass fishing. Good luck!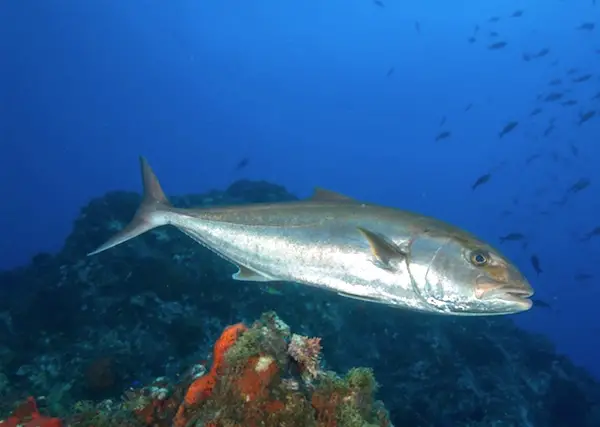 The amberjack is a massive fish that is very strong and fun to catch. The Florida amberjack is definitely one of the most fun fish to catch in the state and one you should target if you get a chance to fish Florida saltwater.
You'll find amberjack in deep water over 200 feet deep typically. They are offshore fish and they grow over 200 lbs. in the right conditions. The Florida Amberjack Record is 143 lbs. Big enough for ya?!
Fish in Florida are the best in the world.
VISIT THIS YEAR AND FIND OUT FOR YOURSELF!
Other Fish Articles Readers Love:
Learn How To Catch Florida Amberjack – in our Guide!
Florida Freshwater Fishing Guides