Tampa lost the Gandy Bridge fishing pier not long ago due to instability of the platform, so it's only fitting this Ballast Point Park Fishing Pier is a close alternative anglers can visit close to downtown Tampa. And, it's open all night long, just like the Gandy Pier was – BONUS!
This little park has a spray park for kids – spraying water while they slide and play. On the pier is a little restaurant and bait shop with frozen bait.
The pier isn't very long, but it's adequate and gives the fishermen and fisherwomen in the family something to do while the kids play.
The fishing pier has benches and fish cleaning tables with running water so you can clean your catch right there before putting it in the cooler. A nice touch!
If you are in Tampa and you want a quick place to go to catch fish, head down to the Ballast Point Park Fishing Pier and see what you can catch. Here's a guide with all the info you need to find it and catch some fish on this pier.
Fishing Hours?
This is another Florida Fishing Pier that is open 24 hours a day – 7 days a week! We absolutely love this concept because who can be bothered to leave if you're catching fish? Not us.
Note, the rest of the park is open from 6 am. to 8 pm. daily
What Fish Can You Catch?
The Atlantic side of Florida has many of the same fish as the Gulf Coast side, but also some different fish that are more common. The best gamefish can be found on both coasts with only a couple exceptions.
Fish Commonly Caught at the Ballast Point Fishing Pier
Please note, the tides here can be strong and that makes it great for catching many different fish species. Bring a variety of bait and artificial lures.
Note also, if you fish the bottom, you're likely going to get stingrays, flounder, and catfish.
How Big Is the Ballast Point Fishing Pier?
The city website lists the pier's length at 600 feet but measuring on Google maps shows it to be 943 feet long. Apparently there was an upgrade!
Fees
The pier and park are FREE – no charge. You can reserve the Gazebo and shelters with picnic tables through reservations on the park's website here. Click the green link button for gazebo or shelter and schedule your visit.
Is a Fishing License Necessary?
Yes. The pier is free to fish from and you can come anytime to fish from it without worrying about paying anyone money. Unless you don't have a fishing license, then you need to pay Mr. Florida State for one.
Get a fishing license before coming. Get one online from the state MyFWC.com website or just stop by your closest Walmart and go back to the sports / fishing section.
If you're going to fish regularly, you should get a year long Florida saltwater fishing license.
Restrooms?
Yes, the park has public restrooms available and they are open during park hours. I'm sure there is one restroom open at night since it's open all night. They may close at night. Be prepared for that situation if you know what I mean.
Shade on the Pier?
Not on the pier, but there are plenty of covered shelters at the park where you can go to get out of the rain if needed.
Does the Pier Have a Bait Shop?
Yes, a small shop is right there at the pier and you can buy frozen bait and some snacks and cold drinks.
Is Rental Gear (Rod and Reel) Available?
Yes, when the bait shop is open during the park's regular hours, you can rent gear from the bait shop like rod and reel.
Restaurants?
The Taste of Boston seafood restaurant is here and it has received many high-ratings in the reviews.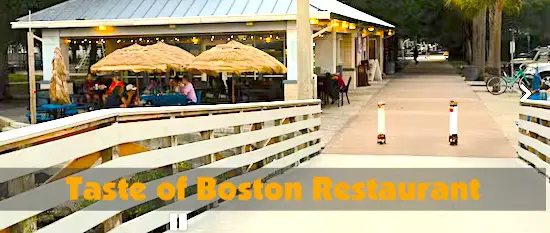 Taste of Boston – New England style seafood. Relaxed atmosphere with on the pier seating outdoors under large umbrellas. It doesn't get better than this restaurant for location in downtown Tampa right on the water. Opens at 12 noon daily and closes at 6 pm. except on the weekends they're open until 7 pm. Address – 5314 Interbay Blvd, Tampa, FL 33611. Phone – +1 813 831-2112. Website. GPS 27.889246109189894 N, -82.48081657859213 W.
Pier Restrictions
Fishing piers have rules you have to follow, and unfortunately I cannot find a list of what is allowed and not allowed here on this pier. They will have a sign at the pier entrance, I'm sure.
You probably can't start fires or grill on the pier, smoke, do drugs of any kind, play music, set up a tent, sleep there (at night), or sell your own bait or drinks there without approval from the City of Tampa.
Prohibited on the Ballast Point Fishing Pier
Feeding birds, manatees, fish
Pets – dogs are allowed on a leash, and all service dogs allowed
Littering
Smoking
Skateboards, scooters, roller skates, rollerblades, surfboards, bikes
Jumping or diving, and sitting on the railing
Casting nets
Loud music
Any Live Web Cam on the Pier?
No, I cannot find one.
Where Is the Pier Located?
This pier is located in Tampa Bay in the small area over on the east side. The pier faces east and provides amazing sunrises if you're up that early.
If you take Interbay Boulevard in Bayshore, you'll find the pier just north of the Macdill Air Force Base in South Tampa.
See the map image above, or use the GPS data below to see the pier location in your favorite map application.
The address is: 5300 Interbay Blvd, Tampa, Florida 33611. The GPS coordinates of the covered building at the end of the pier are: [27.889284801535986 N, -82.47764598147103 W]
Where's Parking?
There are 44 parking spaces for people going to the park and fishing pier at Ballast Point. This is not really enough for a pier of this size and a nice water park. There is parking at the fitness center but I'm not sure if anyone can use that lot or only those who pay to join the fitness center there.
The piers are ADA (American Disabilities Act) compliant and there are handicapped parking spots available in the main parking lot and ramps to get up onto the pier.
Cautions
Birds like seagulls, egrets, pigeons, and other birds may be around to grab your bait in a bucket, or anywhere they see it. Even while casting, you may need to be cautious so you don't snag a bird.
If you do hook a bird, put a shirt over it and remove the hook if it looks like it's easy to do. You may need to take the bird to a veterinarian. See our guide for removing hooks from birds here.
Short Video of the Ballast Point Fishing Pier
I found this video of a guy walking the pier, it gives a great overview of the structure. There's like nobody there and I guess it's too chilly? Seems like SOMEONE should be out fishing, probably him!
I start the video when he starts walking the pier. You can go back to the beginning if you want to see the park he scans over first.
Pier Social Media
Call them at this phone number: +1 813 831-2112
The city has a page for the pier that doesn't say much, here.
An Instagram search turns up less than 100 photos.
Where's the Closest Fishing Pier to Me?
If you live in Tampa, Florida this Ballast Point Fishing Pier is probably the closest fishing pier to you and you should go have a look. The best pier for you may not be the closest one, so if you do live in Tampa you're going to want to have a look at the following piers too.
They require a short drive, but they are even better than this little local Ballast Point Pier. We have huge fishing guides for all the major piers in Florida and all the top gamefish.
Piers Close By Tampa, Florida
[Image credits: Map image from Maps.google.com. Featured image by Jesse Adair at unsplsh. Taste of Boston photo from their website.]