Welcome to our "How to Catch Florida Black Drum – A Complete Guide" where we tell you every possible Tip for catching the hard fighting fish on the east and west coast of Florida.
[Page Updated – 13 August 2022. Bookmark this page (Windows CNTRL+D, MAC CMD+D) so you don't lose it.]
HOW TO CATCH BLACK DRUM FISH — Guide
GAMEFISH RATINGS
Size: 7/10  Fight: 6/10  Difficulty to Catch: 3/10  Taste: 8/10 (smaller the better!)
INDEX to Sections in this Guide:
PRO TIP – Black Drum are also called Black Reds, Drum, BDs, and B Drum.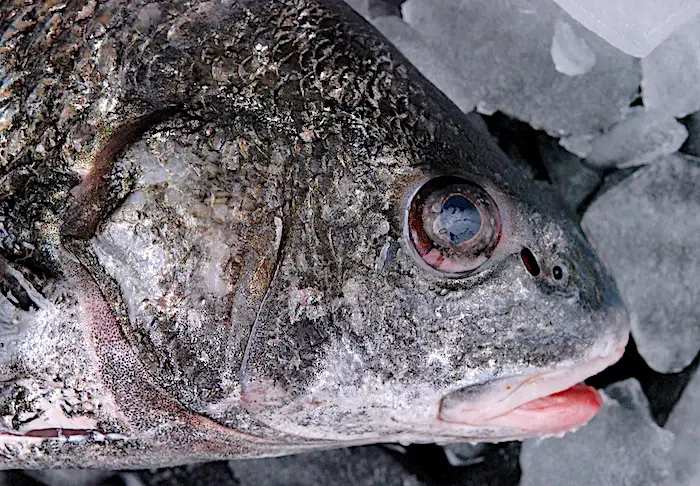 Black Drum Facts
Species: Pogonias cromis
Similar Species: Redfish (S. ocellatus); Sheepshead (A. probatocephalus). Neither of these fish has barbells on the lower jaw.
Length: These fish grow up to 67″ in length.
Weight: Up to 96 lbs.
World Record Size: The biggest one caught in Florida waters was by These drum have a life expectancy of around 35 years max.
Habitat: These are inshore fish, in shallow water and usually found in saltwater canals leading to residential areas. In Tampa, Florida I lived in apartments on a saltwater canal where I regularly caught them over at the dock across the channel.
They can be found in bays, river mouths in brackish water, lagoons. These fish spend the most time at the bottom over oyster beds, docks, and bridge pilings. They can be found offshore, but hard to target in this area.
One of the best places to find them is from fishing piers.
Description: More laterally compressed than redfish, but similar in appearance. It has a strongly-arched back which is darker than the lateral (sides) and belly. At birth, they have 4-6 thick dark grey or black bands around the body, often with a dark spot across the front of the head.
These bands gradually disappear as they grow into adulthood. Instant identification can be made using the dark bands and the barbells on the lower jaw.
Scales are large compared to similar-sized fish. Teeth resemble human dentition from the front, but most of the mouth is lined with very strong pharyngeal teeth which enable the drum to crush barnacles, oysters, crustaceans, shrimp, and mollusks.
Vocalization: Amazingly, this species and other fish like the red drum can emit a croaking or grunting sound when pulled up out of the water.
Range/Distribution: This species is found in the Gulf of Mexico, and all along the east coast of the USA south of Chesapeake Bay. Outside of the United States, they are found in the countries of Argentina, Brazil, Canada, Mexico, and Uruguay.
Conservation Status: Least Concern (LC) at IUCNRedlist.org. Populations healthy and stable in Florida.
Why Catch them?
If you live in Florida or are visiting the Sunshine State soon, you'll have a great day targeting this fish at the docks or pier near where you're staying.
Use shrimp on a free-floating hook anchored to the bottom with a sinker and see if you can grab one of these delicious fish.
BDs are Good Eating! A great tasting fish with texture similar to the redfish. Best to eat this fish and redfish only at the bottom of the slot limit – 14-15″ to avoid the majority of parasites.
Easy to catch and great for kids. Kids should start off with a hard fishing fish that is easy to catch. When you find a group of small fish, this is exactly what you'll get.
Where To Find?
Habitat –  Near any structure covered with barnacles, and with oysters on the bottom. In short, that's it. Find black drum by any pier, dock, bridge, rocks, wreck, vertical pole in the water, anything in the water that collects barnacles.
They are in large numbers on Florida's west coast. We spent years catching them in the residential canals coming off Tampa Bay. Not a hard fish to target, and best when not surrounded by the faster pinfish which will steal your bait faster than the BDs can reach it.
What Do They Eat?
This bottom feeding fish eats a variety of prey but prefer something hard and crunchy.
crustaceans
mollusks
shrimp
oysters
clams
crabs
sand fleas
How to Catch from the Shore
Catching drum fish from the shore is as easy as finding oyster beds, oyster reefs, or barnacle covered submerged material (concrete, metal, wrecks, junk).
They hit shrimp hard. Fishing from piers, docks, bridges, or anything close to the shore should net you some nice fish if you scout around and test various areas. I think we caught the most drum on live shrimp tossed near docks in canals.
Black drum, like other fish, feed on hard tides as the food is moving toward them due to current. I usually used a couple of split-shot to get the shrimp down on the bottom, depending on the current. If strong current, a Carolina Rig with a 2-4 oz. sinker may be necessary.
When Is the Best Time to fish for them?
In the winter and early spring, they come into small estuaries to spawn. We found them year-round in Florida saltwater canals, regardless of time of year. Fishing the moving tide is important, but you can also initiate a feed with chumming barnacles or repeatedly dropping shrimp on a hook in front of their face.
Gear
We used an UglyStik and baitcasting reel for most of our Black Drum fishing. It doesn't matter all that much until you hook into a big one that gives you the fight of your life. Your gear should be strong enough to muscle the fish away from docks and other barnacle and oyster covered surfaces or you may break the line.
Rod and reel anglers from shore or a kayak will do well with a 7-foot medium or medium-heavy action rod paired with a quality saltwater reel capable of spooling 100 yards of 20 lb. braided line.
Spinning reels also work fine, so go with whatever your preference is. If you haven't tried a baitcaster, give it a try. Once you get past the learning curve, your casting accuracy will improve considerably. We very rarely use spinning reals anymore.
Best Rod?
Nobody buys a rod and reel specifically FOR BDs, I mean, they're delicious when small, but there are plenty of other fun fish to catch in Florida. That said, a simple medium-action Ugly Stik is our preferred rod for all general Florida fishing from shore. 7′ to 7.5′ feet is the right size for most people.
If you're fishing from a pier and want to get the extra distance, go with 8′-8.5′.
Ugly Stick 7′ GX2 Inshore Rod for Spinning Reel – Best 7 foot Inshore Rod for this and other medium to heavy Florida Fish
Ugly Stick 7′ GX2 Inshore Rod for Baitcasting Reel – Best 7 foot Inshore Rod for Baitcasting
Keep in mind, that if you're getting a baitcasting reel – you'll need a baitcasting rod with this finger grab:
---
Best Reel?
Spinning Reels
Though we love the baitcasting reels, kids and anglers who don't fish that much might not get comfortable using one and the learning curve is too high. Spinning reels work great as well.
If you're skilled at casting to drum with a spinning reel you'll love these two Penn Reels which are great for catching saltwater fish of any size. Not to mention, these reels are ideal for catching any other Florida fish in the 1-40 lb. class.
The following reels are great for catching black drum, flounder, gator trout, redfish, grouper, cobia, flounder, snook, bluefish, and other fish found close to shore. Note, the bigger the fish are the better the baitcasting reels (below) are.
Very high ratings; Made in America (Seattle, WA.)
Best Penn Reel 1 for any drum and other medium-sized Florida Gamefish
Very high ratings; Made in America (Seattle, WA.)
Best Penn Reel 2 for drum and other Florida fish
---
Baitcasting Reels
Baitcasting Reel Advantages
Baitcasters have been my favorite reel to use for fishing for anything for the last 12 years. Ever since I mastered casting with a baitcaster, I never went back. I insist on using baitcasting reels for targeting BDs or any fish. I use them for a couple of reasons.
1.) Better accuracy in casting. After 1-2 casts, I can place my bait exactly where I want about 98% of the time. With spinning reels, I'm around 70% accuracy. The difference is the way the line comes off the spool and the momentum of the spool taking line off automatically is consistent and easy to judge after a while.
2.) More power when reeling. There's a more direct power connection with baitcasting reels. The mechanics make it more efficient to crank down on baitcasting reels. It's also easier to add more resistance by slowing the reel with your thumb. Try that with a spinning reel! A big black drum pulls hard – a baitcasting reel will help you power it in.
3.) More durable. The spinning reels can succumb to any number of problems with their exposed internals and wide line guide that seems to get caught on everything. I have broken lots of spinning reels. Not fun. For a while (years ago) baitcasters were engineered better and used better material. Today you can find $1,000 spinning reels too, so the difference is not as significant.
Best Baitcasting Reel 1, Made in America (New Jersey)
Best Abu Garcia Brand Baitcasting Reel 1
Best Baitcasting Reel 2, (Offices in USA)
– Best Shimano Brand Baitcasting Reel 2
Best Line?
Twenty pound (20#) braided line is my usual go-to line choice for any drum and really, all Florida fish in general. Braided line is super strong, and thin.
I recommend the following line just to make sure you have the biggest ones covered. It hurts (bad) to see one get away because of inferior line.
Best 20 pound Test Braided Line– (125 yards)
Best Hooks?
The best hooks depend on what size fish you're targeting. If you bend a couple of hooks, go bigger and thicker diameter! Buying online is the best way to find top fishing gear, it's always in stock and comes to your front door.
I love Gamakatsu hooks. They are ultra-sharp (chemically sharpened) and strong, and I've not used anything else for about 20 years since they first started making them (or at least introduced them in the states).
Best Rigs?
1.) Drop-Shot Rig. One of the best (and easiest) rigs to create is a drop-shot rig. Take a piece of 30-pound monofilament leader (clear line) about 1 yard long. On one end, tie a 1-ounce sinker if you have a strong current, lighter if slow or no current.
On the other end, a 2/0 size Gamakatsu hook (see above link). About 12 inches from the sinker, create a knot with a loop. Attach your braided line to the loop. Add a shrimp and cast out. The sinker holds the bait to the bottom where the drum are.
The separation of bait and sinker allows you to better feel a bite, and less time for the red to feel the weight of the sinker and spit the bait.
2.) Carolina Rig. This could be called the Florida Rig, or any state's rig. We use this rig often enough that it is always on one of the rods in the truck. When fishing for Drum with the Carolina Rig, stick a live or dead shrimp on a 1/0 or 2/0 Owner or Gamakatsu hook.
3.) Freeline w/ Split-shot. This is the quickest way to get a shrimp in the water on the bottom because you don't need to tie anything on except a good Owner/Gamakatsu hook. Squeeze a couple of big split-shot on the line about 2 feet from the hook and toss it out there.
This is basically a super-fast version of the Carolina Rig. Great for weak current situations and without oyster bottoms where your split-shot can get hung-up.
---
Best Artificial Lures
Some people use artificial lures for fishing for black drum fish, but we don't do it often. We always have some other live or dead bait on-hand is the main reason why, but we just hate to lose artificials in the canals to tell you the truth!
DOA Shrimp – Best Artificial Shrimp Lure
Artificial Fish Lure (Shad) – Best Artificial Fish Lure
Black Drum Fish Laws in Florida
Florida Gulf and Atlantic State (East Coast)
Size Limit: 14 to 24-inches with one fish over 24-inches allowed
Daily Bag Limit: 5 fish per day allowed by each licensed angler (includes one over 24-inches)
Open Season: All year, not closed at any time.
Harvesting Gear: This species can be taken using hook and line, cast nets, seine, spearfishing or with gigs. Black drum CANNOT be taken by snatching or using any double, treble, or multiple hook set up with live or dead bait.
Full Florida Black Drum Regulations here.
How to Cook them? Should You Cook them?
This is one of the best-tasting Florida fish you can eat. But, you should not eat them all, and even though Florida State allows you to keep a fish bigger than 24″, we STRONGLY recommend you don't bother. This fish can live for over 30 years.
Such long-living fish collect worms and parasites over the year, without fail. Our own preference is to avoid any fish over 15″ in size. This is the bottom of the legal limit of 14″. The thought of eating parasites just isn't appetizing.
TIP – Catch 'em BIG! Eat 'em SMALL!
---
RECIPE #1 – Vern's Black Drum Surprise
The surprise is that this is the only way I cook my fish, so if you've read any of my other fish recipes on this site, this one is going to be VERY similar.
I'll cut it short.
Gut your 14-15-inch black drum fish out in the yard, at the dock, wherever makes sense.
Scale your drum.
Cut off the fins.
Squirt it off.
Cut slices 1/4 to 1/2″ deep in the sides of the drum.
Cover the fish in butter, crushed garlic, some salt, and pepper. Don't forget butter in the belly!
Wrap the entire fish in foil, folding the edges to seal it.
Poke the foil with a fork 4 times to allow some steam to escape.
Pre-heat oven to 450° F or more.
Cook for 10 minutes. Check it. If not done in the thickest part, cook 3 more minutes. Check. Repeat.
Resources
Image credits (top to bottom): Flickr college sea program in Louisiana. Paul Opel at Flickr. Pier catch – Rusty Clark ~ 100K Photos from Flikr.
We have an ENTIRE AMAZON STORE here you can browse to see if there's some shirt or other item you'd like to buy instead of these recommended boyfriend gifts.