Snapper Fish World Records (All Tackle)
World records for some of the Snapper Species. Six of these were caught in the state of Florida and hold the state records for those fish.
Atlantic Cubera – The biggest of the species has a world record size of 56.59 kg (124 lb. 12 oz.) and was caught off Garden Bank, Louisiana on June 23, 2007 by Angler, Marion Rose.
Blackfin Snapper – The biggest Blackfin Snapper in the world was 3.86 kg (8 lb. 8 oz.) and caught off the last island in the Florida Keys, Key West, Florida on June 14th, 2011. The lucky Blackfin angler was Martini Arostegui.
Dog Snapper – The biggest Dog Snapper ever caught on record is the world record catch weighing 10.90 kg (24 lb. 0 oz.). This big fishcame from an area known as the Hole in the Wall, Abaco, Bahamas. The world record holder is Captain Wayne Barder who caught the fish on May 28, 1994.
Lane Snapper – The world record Lane Snapper was caught almost twenty years ago on August 25, 2001 by Stephen Wilson off the town of Horseshoe Rigs, Mississippi. The big fish was 3.72 kg (8 lb. 3 oz.).
Mangrove (Gray) Snapper – The world's biggest Mangrove Snapper was caught on July 22, 2020 off Cocodrie, Louisiana and weighed 18.63 lb. and was 31 and 7/8 inches long. Tim Champagne was the lucky angler. He caught the giant Mangrove on a croaker fished on topwater!
Mutton Snapper – The World Record Mutton Snapper was caught by Richard Casey on November 29, 1998 while fishing off the Dry Tortugas, Florida. This is west of Key West. The weight of this big Mutton was 13.72 kg (30 lb. 4 oz.).
Red Snapper – The world record for red snappers, weighing 50 lb. and 4 oz., was caught in the Gulf of Mexico off the Louisiana coast by Henry 'Doc' Kennedy in 1996. Henry insisted he had two giant Reds on the same line and the bigger fish got away!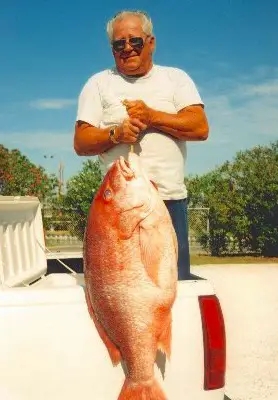 Schoolmaster Snapper – The biggest landed Schoolmaster Snapper was a 6.02 kg (13 lb. 4 oz.) fish caught in North Key Largo, Florida in the Florida Keys. This catch was recorded on September 3, 1999 by angler Gustavo Pla.
Silk Snapper – James Taylor caught the World Record Silk Snapper weighed 8.32 kg (18 lb. 5 oz.) and was caught on July 12, 1986 off the coast of Venice, Florida on the Gulf Coast.
Vermilion Snapper – Vermilion Snapper don't get all that big, so this 3.26 kg (7 lb. 3 oz.) fish from the Gulf of Mexico off Mobile, Alabama may not seem big, but it's huge for a Vermilion Snapper! Caught by angler John Doss on May 31, 1987. A record never to be broken?
Yellowtail Snapper – The world's biggest Yellowtail Snapper was 50 cm. long (about 20 inches) and was caught in the waters around Key West, Florida on June 15, 2012.
Florida State Snapper Records
We've added Florida State fish records to the records for these fish listed above: Cubera, Lane, Mutton, Red, Vermilion, and Yellowtail.
More Fishing Help