[Page updated 14 August 2022]
5 Best Redfish Recipes
Redfish is one of the best-tasting fish I've ever had in my life, and many people say the same thing. There's a reason, besides the excellent challenge redfish are to catch – that tens of thousands of anglers every year focus on the redfish while fishing.
Redfish is one of the most DELICIOUS fishes in the ocean!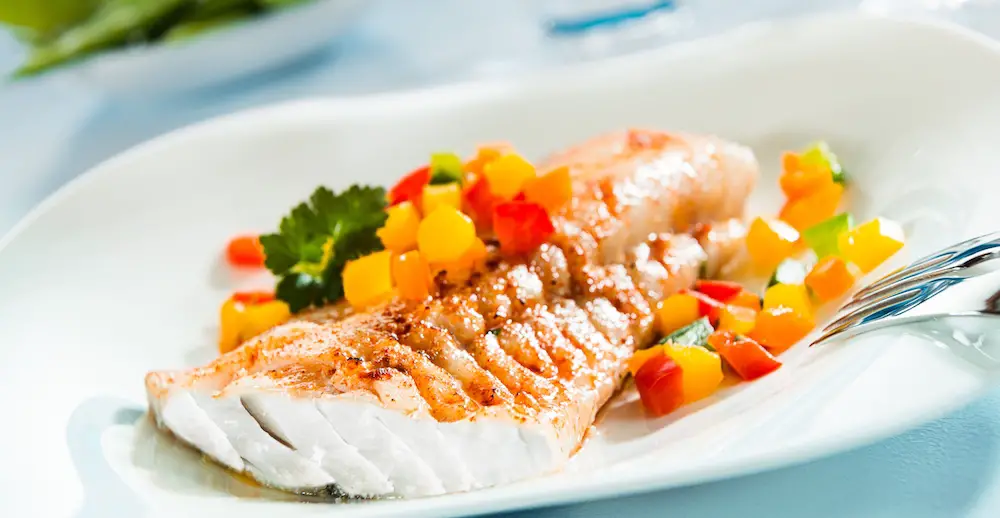 Redfish flesh is bright white after cooking and has very little fat between flesh and skin. The taste is light, ever so slightly sweet, and softly flaky. Reds have a lighter texture than tuna, grouper, or Mahi, but are stronger than perch or pompano. The texture is something like Tilapia.
Here are some recipes you can try at home. Keep in mind, you won't find redfish on the menu at your favorite restaurant around your home, or at the beach. It's illegal to sell wild-caught reds in most places. So, you'll need to find it and cook the fish on your own.
Don't worry – cooking redfish is pretty easy stuff! Let's get started!
Oh, wait. If you'd rather see 10 other Florida fish that are fantastic eating – see it HERE >
MORE REDFISH INFO Pages
OH, and, DON'T MISS THE LAST RECIPE!
---
Recipe 1 – Redfish on the Half-shell (in the hardened skin)
This red drum recipe is similar to the way I typically bake my redfish most of the time. The exception is that I used real butter instead of olive oil. The taste of butter just cannot be beaten, and I highly recommend it. Also, the amount of oil/butter can be cut in half.
Ingredients
1/4 cup plus 2 tablespoons extra-virgin olive oil, plus more for brushing
2 redfish or striped bass fillets, with scales still on (about 2 1/2 pounds) and pin bones removed
1/2 teaspoon crushed red pepper or even better, Cajun spice powder. The "McCormick" brand is fantastic, as is "Slap Ya Mama." Not joking, that's the name of it! See all the Cajun Fish Spice.
Salt and freshly ground pepper – be careful, if you use a seasoning above, it has salt already and you won't need pepper either – but season to taste.
1/4 cup minced flat-leaf parsley
2 garlic cloves, minced
Lemon wedges for adding some taste if diners would like
Steps to Make Delicious Baked Redfish
Step 1
Preheat the oven to 500°F or more, heating from below only. Lightly cover a metal baking sheet with oil. Place the redfish halves' skin side down (scales removed) on the sheet. Drip melted butter all over the redfish flesh. Add your powdered seasoning or salt and pepper.
Roast the redfish on the lowest rack of the oven for 10-15 minutes. Test with a fork to ensure the thickest part of the fish is cooked through.
Every time you check if done, drip some more butter over the flesh to ensure it stays moist. Redfish is cooked properly when the thickest part reaches 145°F, according to the "2015-2020 Dietary Guidelines for Americans 2010."
Step 2
Meanwhile, in a small bowl, mix the parsley and garlic with the remaining oil or butter and season lightly with pepper and salt. When the fish is finished, move it to a serving plate and cover it with parsley-garlic oil with lemon slices on the side.
Wine – Serve with a light-tasting Sauvignon Blanc wine, or other light and fruity wine.
---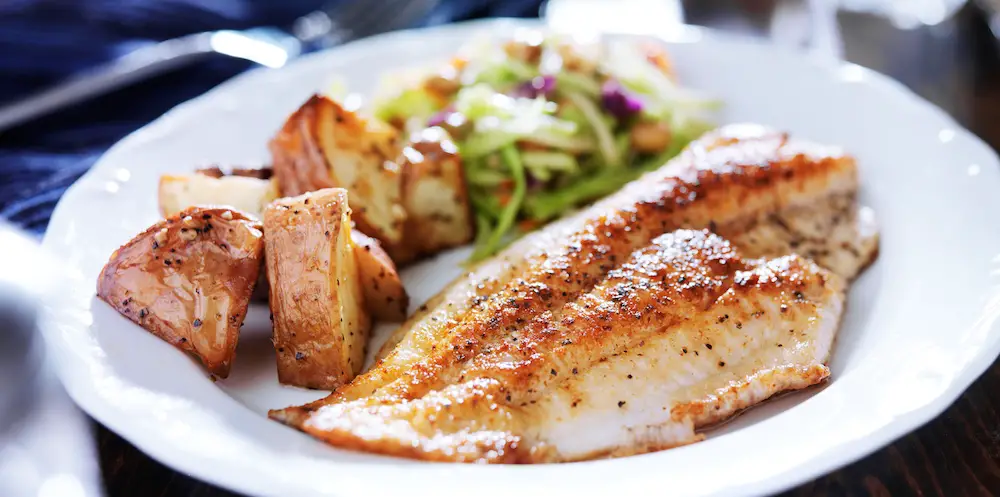 ---
Recipe 2 – Vern's Fall on the Floor Baked Redfish Recipe
It's 'fall on the floor,' because it's so good! The natural redfish flavor is predominant in this recipe – a light flavor that emphasizes the natural deliciousness.
This is the way I used to make my redfish on an almost weekly basis as I was catching redfish every time I went out on the kayak into Tampa Bay in Florida.
If you want to save some money on gas or electricity, use this smaller fish roaster for all your fish cooking. It gets hot faster, it uses less power.
Our only suggested Fish Roaster at Amazon >
Ingredients
Redfish – the smaller, the better. Keep the smaller legal redfish as you fish – don't keep a big one near the maximum limit of the slot. Small fishes are always tastier and have less of any built-up pesticides or other chemicals.
Butter – real butter. If you use salted butter, you don't need to add salt
Garlic – minced is ideal, or cut finely
Salt and pepper if you'd like
Steps to Make 'Fall On the Floor' Redfish
Gut and scale your redfish before bringing it into the house. I always throw some old newspapers down first to catch most of them. They're a tough fish to scale, but it has to be done. If you're cooking on a grill – no matter – leave the scales on if you want, but know that your fish is going to smell really fishy!
Step 1
With some strong scissors, cut off all the fins and the soft part of the tail. Fish Fin Scissors.
Step 2
With a sharp knife, cut small slices into the fish on both sides an inch long or so. Only go about 1/2″ deep. 3-4 inch-long slices into the flesh of the redfish on each side – go about 1/2-inch deep.
Step 3
Prepare a large piece of foil lined with cut garlic, real butter, greens, or whatever else you want to flavor your fish. I sometimes used cumin or curry powder to change it up. Don't worry, after cooking, the smell and taste lessen considerably – you can use a lot (whole tablespoon if you like it).
Step 4
Melt and pour butter, or just place hard slices of butter in the gut of the fish and over the outside so when it melts it will seep into the slices.
Wrap up the foil and cinch it in the top center. Poke some holes in the top of the foil – just tiny slices a half-inch long, about four of them to let some steam out. You don't want it sealed up, and you don't want all the steam to escape either.
Step 5
Preheat your oven to 500°F or higher, a very high setting – and set the fish in the foil on a middle or high-middle rack and close it up. Depending on the size of the fish, you're going to cook the redfish very quickly like this. You'll also heat your kitchen up to 150 degrees! Ha! But, that's Vern's style.
I like to cook my redfish quickly because:
1.) I dislike dry fish that cooks too long and cooks the flavor out.
2.) I am usually starving and want to cook that redfish as fast as humanly possible.
Check the fish in 10 minutes. Remove the pan and open the foil. with a fork. Watch your face, or the steam will wake you up! Using a fork, just open one of the slices you made and see if it's cooked through. Better to check the thickest part of the flesh because when that's cooked – you're done.
If you check a thin portion and it's done, the thicker parts might not be done yet and you'll remove it too early from the oven. If done – great! If not, check every 5 minutes until done. It almost always takes just 10-15 minutes unless it's a huge redfish.
Fish should be 145°F in the thickest part to be considered done.
Beer – don't forget to eat Vern's Fall on the Floor Redfish with your favorite ice-cold beer. Caution – this can actually increase the 'fall on the floor' effect.
---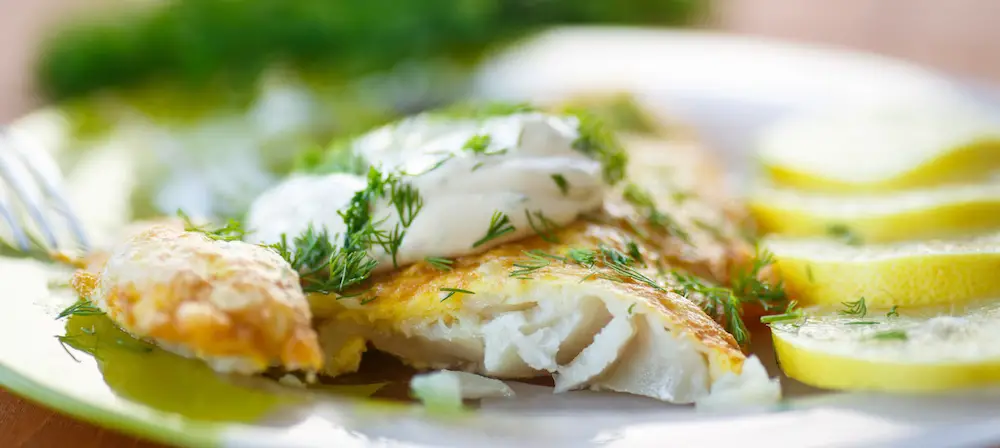 ---
Recipe 3 – Pan-Fried Redfish
Ingredients
Redfish
2 cups buttermilk
1 teaspoon salt and some pepper
1/2 tsp Old Bay spices (can be any general fish seasoning you prefer)
1/4 chopped onion
Steps to Make Pan-fried Redfish
Fillet your redfish so you have 2 nice hand-sized fillets. Wait, your fish is bigger than that? How big? Keep in mind, smaller fish is more delicious fish – so for next time, get some smaller ones. ;P
Step 2
In a large bowl mix everything up and place your fish patties in, soaking both sides. Cover with plastic wrap and refrigerate for at least 4 hours.
Remove the redfish from the bowl and let it drip dry. In a heavy skillet, add some olive oil (Take them out of the marinade and pat dry. In a cast-iron skillet add 3 tbsp olive oil and heat for a few minutes.
When the oil begins smoking, add the fillets and fry for 3-5 minutes on each side. When cooked, As the oil just begins to smoke, place the fillets in the skillet and cook for a few minutes on eat side. Remove and let sit for 5 minutes and serve.
An ideal gift for any fish lover is this specialized fish roaster for all sorts of fish.
---
Recipe 4 – Broiled Redfish
Some people enjoy fish that is slightly dry on top, so broiling is the way to go.
Ingredients
Redfish fillets
butter
salt and black pepper
Steps for Making Broiled Redfish
Step 1
Put a big piece of foil on your baking pan and put some butter on it if you want to avoid the skin sticking. Fold the foil up on the sides and bottom and top so it forms walls that will block the splatters of butter all over your oven.
Step 2
Brush the fillets lightly with 1 tbsp. olive oil and sprinkle them with salt and black pepper to taste. One thing I like to do that you may or may not like is to pour lemon juice all over the top of the red drum before putting it in the oven.
Step 3
Use the top rack in your oven. Your fish should only be a couple to a few inches away from the red-hot broiler. Turn the broiler on and pre-heat for a few minutes.
Step 4
Place the fish under the broiler and check frequently to see if cooked. It is very easy to overcook when the broiler is so close to the flesh of the fish. As a guide, check every 3 minutes to be safe. A thick piece of fish can be done in about 9 minutes.
Step 5
Turn fillets that are over 1½ inches thick after seven minutes, and cook them for another five to six minutes. Push your thermometer into the bottom of the fish – furthest away from where the broiler was, and see if you get up to the required 145°F.
---
Recipe 5 – Cajun Blackened Redfish
Back in the early 1980s – when I was still in high school – a chef Paul Prudhomme created a really special fish dish made of one of the tastiest fish in the world – redfish!
He created his own blend of magic seasoning – which became so popular that the redfish were almost fished out in a couple of years! Serious restrictions had to be made on commercial and sports fishermen. Today the redfish populations have returned and though it is still a protected species, anglers can catch it from Virginia to Mexico.
Learn How To Catch Redfish here!
So, if you ever wanted to try Chef Prudhomme's amazing cajun seasoning for his blackened redfish – here you go – Best Cajun Seasoning ever! 
What does a red drum taste like? If you ever had black drum – just like that. If you ever ate red snapper – very similar to that.
Ingredients
red drum (redfish) filets – skinned and de-boned
1 tbsp. sweet paprika
2 1-2 tsp. salt
1 tsp. onion, garlic powder, cayenne pepper
3-4 tsp. freshly ground black pepper
3-4 tsp. freshly ground white pepper
1-2 tsp. dried thyme
1-2 tsp. dried oregano
12 oz. butter, hot and melted
Steps to Making Paul Prudhomme's Famous Cajun Blackened Redfish
Step 1
In a bowl, add the following: salt, onion, paprika, salt, onion and garlic powder, cayenne, black and white pepper, thyme, and oregano.
Step 2
Put 2 tbsp. of the butter into each of the six small ceramic bowls for cooking. Keep it warm. Add the remaining butter to a shallow dish.
Step 3
Dip each filet in butter and place on a piece of foil in a tray. Cover each redfish filet with the spice mixture, squeezing the mixture into the fish with your fingers. Pour off the extra butter into a small bowl.
Step 4
Preheat your oven to 200°F, you won't cook the fish here – but it will keep the redfish chunks warm. Heat a large cast-iron skillet over a high flame until white and ashy, around 10 minutes. Carefully place 2-3 filets in the pan. Stand back to avoid smoke and pour 1 tsp. of butter over each filet as it cooks. Cook until the bottom of each filet appears charred, around 2 minutes. Turn filets over and pour 1 tsp. butter over each.
Step 5
Continue cooking until the fish is cooked through (time will vary according to the heat of the pan). Transfer to a sheet tray on a rack and keep warm in the oven. Repeat the cooking process with the remaining fish and butter. Serve with more melted butter on the side.
Beer. This is another one of those redfish dishes that should have beer accompanying it!
---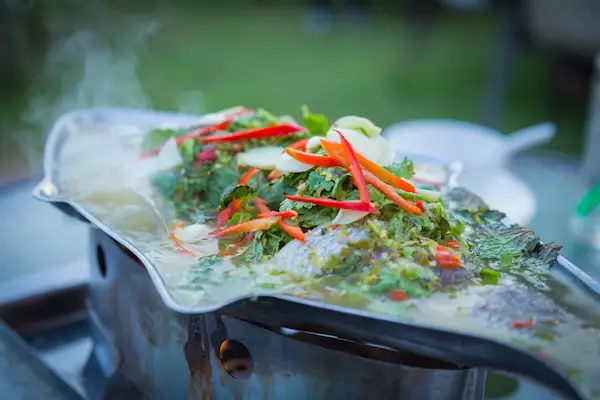 That wraps up our best-tasting redfish recipes! Please note – eating the skin of fish might be delicious to some people, but the fact is – all fish store pesticides and other chemicals in the fat – so the skin is best discarded. We almost always leave the skin on while cooking, but remove the scales.
We searched everywhere to find out recommended redfish consumption limits -and couldn't find anything. Probably because it's illegal to sell except for farmed reds, and there isn't much of that because in some states it is illegal to sell it.
Gator and other freshwater trout are safe to eat once a week, so that's likely the same for redfish. If you know of a good resource for dietary restrictions on redfish – please let us know, and we'll update this page right away.
---
MORE REDFISH INFO Pages
---
Want to know MORE great Florida fish to eat? See them HERE >
Learn HOW TO catch all kinds of Fun Florida Fish HERE.