United States State Salmon Regulations
[Page updated 6 August 2022]
Here's our full Salmon Index >
Salmon laws vary greatly within each state in the USA. We cover general Salmon Laws and Regulations below, but there is in-depth information to be studied before you go out on the water fishing in any state for any fish.
When available, do download the PDF guides that some states make available. They cover most of what you need. We have also included state fishing license links because you will need a license to get started salmon fishing.
Pay particular attention to allowable methods of salmon fishing. In some states, you can use bow and arrow to fish. In some states, you can snatch fish (hands). In some states, you can spearfish.
You are entirely responsible for knowing every rule about salmon fishing in the state you're in – and ignorance is no excuse. Fines are heavy and enforcement is strict. Know the rules so you can enjoy yourself!
CHOOSE A STATE: Alaska | California | Colorado | Connecticut | Idaho
Illinois | Indiana | Minnesota | Maine | Michigan | Minnesota
Montana | New Hampshire | New York | Nevada | North Dakota
Ohio | Oregon | Pennsylvania | Utah | Washington | Wisconsin | Wyoming
---
Alaska Salmon Regulations
Alaska State may just have the strictest regulations governing fishing of all species. For instance, to even figure out if you CAN fish – check out this table out for starters. Maybe it's because they have more water frontage than any other state with 3,000 rivers, three million lakes and streams, and 6,640 miles of saltwater coast!
Online Alaska State fishing license application. You should probably create a profile, but they do let you register as a guest as well. The online fishing license process begins here.
---
California Salmon Regulations
In California, the salmon fishing season begins April 1 of each year. No more than 2 salmon of any species may be taken in any one day. Coho salmon is prohibited, and can never be kept – they must be let go immediately if you do catch one.
The State of California Department of Fish and Wildlife has an informative PDF guide for Salmon Fishing – download:
California Salmon Fishing Regulations (check date)
In California, on land, you can never possess more than 2 daily bag limits. Meaning, if you're driving in your car and you have uncleaned fish – more than 4 – you can be ticketed and fined. Does that make much sense? Not really. There needs to be another way to regulate.
Online California Fishing Licenses
---
Colorado Salmon Regulations
Salmon fishing in Colorado is mostly for stocked Kokanee salmon which do well in landlocked conditions. The limits for catching salmon are very high compared to most places, and of course, Colorado is a gorgeous place to spend some time fishing!
Colorado State has an extensive fishing pamphlet covering everything possible about fishing in the state, including salmon fishing.
Download and read these PDFs to understand all you have to know about fishing in the amazing state of Colorado.
This small chart shows salmon creel limits in Colorado:
Colorado Kokanee Salmon Angling Snagging Regulations  – everything pertaining to salmon, with regulations for specific bodies of water – must read.
General Fishing Info – heaps of information: Colorado Fishing Informational Guide PDF
Online Colorado State Fishing Licenses.
---
Connecticut Salmon Regulations
Atlantic Salmon are not to be harvested from saltwater locations. Connecticut Atlantic salmon may be taken from lakes and rivers, according to certain regulations found here. Up to one Atlantic Salmon per day may be taken in certain instances. For Kokanee salmon, the limit is 8 fish per day during the short yearly season.
Online Connecticut fishing license application.
---
Idaho Salmon Regulations
In Idaho, all persons over 14 years of age are required to have a fishing license. Information for licenses for residents and non-residents can be found here. When fishing for salmon, a special permit is also needed. Don't forget it.
Idaho Fishing Rules Regulations PDF
Don't miss this section (below) in the above PDF: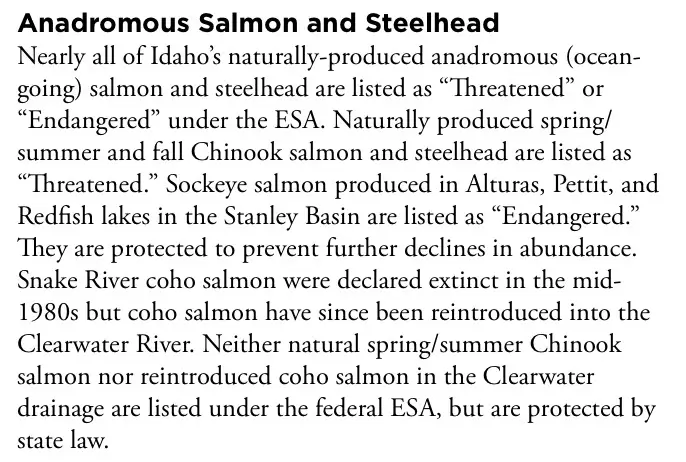 Idaho Salmon Steelhead Rules PDF.
Special rules for Chinook salmon here.
Idaho Salmon Regions Map PDF – another must-read PDF if you're planning on salmon fishing Idaho.
---
Illinois Salmon Regulations
Illinois has Pink, Coho and Chinook salmon in the large Great Lake – Lake Michigan. Coho and Chinook salmon may be caught with line and hook, or snagged. There is a limit of 5 fish per person daily. How a person is supposed to identify 100% that the fish about to be snagged is only a Coho or Chinook is a real problem. Snagging is only permitted during certain months of the year, and in certain bodies of water. Read the PDF below for more precise info.
Online Illinois Fishing License
---
Indiana Salmon Regulations
There is a small chunk of Indiana lakefront with Lake Michigan in the northwest corner of the state. Pink, Coho, Chinook, and Atlantic salmon restrictions are listed in the chart below.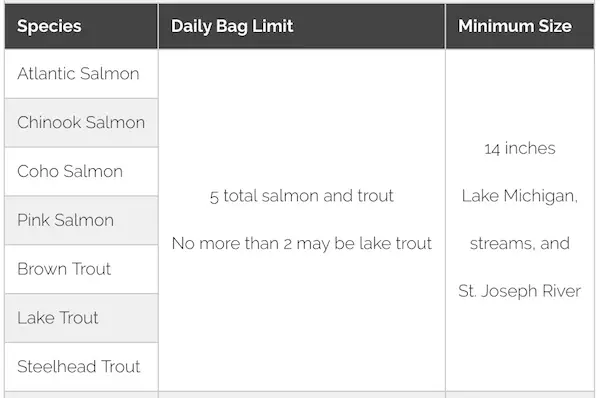 Indiana Fishing Regulations PDF
---
Maine Salmon Regulations
Maine anglers must be 16 yrs or older to catch and keep fish in inland waters (everywhere but the ocean). Also must be 16 yrs. to transport fish caught in inland waters.
Fishing for Atlantic salmon in the oceans or other waterways in Maine is prohibited. The Atlantic salmon is an endangered species in the USA – and is not legal to catch and keep at any time.
Landlocked salmon can be kept with a limit of 2 salmon per day per licensed angler when caught in lakes, ponds, rivers, streams, and brooks. In lakes and ponds, salmon must be minimum 14-inches in length with no maximum length limit.
In rivers, streams, and brooks, the minimum salmon length is 14-inches, and the maximum which can be kept is 25-inches.
Maine doesn't have any specific salmon info sheet or fishing rules and laws in PDF format. However, they have a page online here.
Online Maine fishing licenses.
---
Massachusetts Salmon Regulations
Salmon fishing in Massachusetts for landlocked salmon (no access to Atlantic Ocean) is open year-round. Salmon must be at least 15-inches long. Anglers may keep up to two salmon per day of legal size. Atlantic salmon are protected and shall never be kept.
There is very little information about fishing in the state listed at their official website. If you're interested in their Atlantic Salmon (Salmo salar) conservation program, you can download the PDF here.
Freshwater Massachusetts fishing licenses can be obtained here.
---
Michigan Salmon Regulations
Michigan State has the unique advantage of lake frontage along Lake Michigan, Lake Huron, and Lake Erie. Fishing for salmon is legal for the entire year in most waters. Please check the specific guidelines in the PDF below.
Michigan Fishing Guide Info PDF
Online Michigan Fishing License
---
Minnesota Salmon Regulations
Chinook, Coho, and Pink salmon are plentiful in Minnesota waters. The state borders Lake Superior for 150 miles.
There are many small rules to follow when fishing for salmon in Minnesota. When fishing in Lake Superior, two lines may be used unless fishing in a stream or within 100 yards of a stream. Treble hooks (3 hooks welded together) can be used in Lake Superior, but single hooks only in streams. Streams can be fished from 1 hour before sunrise to 1 hour after sunset.
Minnesota-Fishing-Regulations-Info PDF
Online Minnesota Fishing Licenses
---
Montana Salmon Regulations
Montana Fishing Regulations PDF
Montana Fishing License Chart – find out who needs a fishing license and which one here. Get your online fishing license at the link on this page.
---
New Hampshire Salmon Regulations
Teens sixteen years of age and older must purchase a fishing license to fish for salmon or any other fish in New Hampshire.
One, three and seven-day fishing licenses are available for out-of-state residents in New Hampshire for salmon fishing. Landlocked salmon in freshwater is the only target salmon species because Atlantic saltwater salmon are protected by federal law.
Freshwater fishing license particulars are here. You can purchase your New Hampshire fishing license here.
---
New York Salmon Regulations
New York state borders the Atlantic ocean as well as Lake Erie and Lake Ontario in the Great Lakes. As a result, there are heaps of fishing regulations to familiarize yourself with. The chart below is just a basic statewide guideline, but all anglers are responsible for finding out about specific regulations in any area fished.
All New York State Fishing Regulations.
Online fishing license registration and purchase page for New York anglers are here.
---
Nevada Salmon Regulations
Yes, believe it or not, you can catch coho and kokanee salmon in Nevada at Lake Tahoe!
Trying to find out what size salmon can be legally caught, and where is an exercise in driving yourself mad at the Nevada State website. If anyone can help by stating at least the size limits and number (creel bag limit) per day, that would help us immensely.
Online Nevada State fishing license info
---
North Dakota Salmon Regulations
Angler's 16 or older must have a fishing license to fish for salmon or other fish in North Dakota's streams and lakes. Up to 5 fish per day can be taken as a daily salmon limit, and up to 10 fish may be transported by one licensed fisherman.
Purchase a North Dakota Fishing license by phone or online using the information on this page here. Or, just call 1-800-406-6409.
---
Ohio Salmon Regulations
Salmon must be at least 12-inches to keep, and each angler can keep two fish per day.
General fishing information for residents and non-residents of the State of Ohio can be found here.  More fishing information can be found here on the official site as well (yes, it's confusing to have in two places).
Ohio fishing licenses can be ordered online here.
---
Oregon Salmon Regulations
People fishing must have a license if 12 years of age, or older when fishing in the state of Oregon for salmon – and other fish.
Regulations governing fishing in the state of Oregon is here.
To order your fishing license to enable you to fish in the state, go here.
---
Pennsylvania Salmon Regulations
People fishing under 16 don't need a fishing license in Pennsylvania. There are extensive fishing regulations in the state, and this PDF covers them – but you'll need to scan the entire document.
Salmon fishing in Lake Erie is covered by this graphic:

Online Pennsylvania fishing licenses are here.
U.S. Salmon Regulations
More information about salmon fishing regulations and how to catch more salmon is at our sister site here.
---
Utah Salmon Regulations
From the age of 12, persons fishing must have a fishing license. Thankfully, they adjust the price and make it very affordable for young anglers.
Download the Utah State fishing regulations PDF here.
Download the mobile fishing license application on this page. Or, just call this number: 1-800-221-0659.
---
Washington Salmon Regulations
Everyone 15 years old and older needs a fishing license to fish for salmon in the state, and most other fishes.
Chum, Chinook, Coho, Pink, and Sockeye salmon are all found in Washington State. As the northernmost state in the continental USA – Washington has the best fishing for salmon outside Alaska!
This page has the main information for salmon fishing in the state of Washington.
An interesting service of the official Washington State fisheries website is a list of PDFs fill with information about when and where the best times to fish in the state are. Check this out.
Washington Department of Fish and Wildlife online for fishing licenses is here.
---
Wisconsin Salmon Regulations
Teens 16 years of age or older are required to register with the State of Wisconsin Department of Fish and Wildlife by applying for and receiving a fishing license before fishing for salmon in the state. If you were born before 1927 (you're 90-91 in 2018) you don't need a license either.
Nice of them, right? I think their website must not be updated, they surely don't mean you need to be 90. Could they? They also exempt active-duty military personnel (Wisconsin residents) from getting a license.
The salmon season opens the first Saturday in May at 5 am. and closes at the end of October 15th.
Here is a massive list of articles to browse through and see what applies to you. Some are PDF and some are web pages to read. Check here.
To get your Wisconsin State fishing license, go to this page and register for an account and then fill out the forms.
---
Wyoming Salmon Regulations
Residents and non-residents 14 years old or older must have a fishing license from the Wyoming Game and Fish Department.
Fishing regulations for the state of Wyoming come in a PDF you can find here.
Order your Wyoming fishing license online here.
[Image credits: Chum salmon by Noby2att @flickr.]
Outdoor Essentials – Tackleboxes
We have an ENTIRE AMAZON FISHING STORE here you can browse for Top Fishing Gear.