[Page updated 26 July 2022]
If you're looking for Salmon Fishing Gear like rods, reels, and lures – we have some of our favorite gear recommendations HERE. The following article has some of the gear we've used over the years that we love and want to share with our readers.
Most of us who go salmon fishing are gearing up for a road-trip of some sort. Many people don't screw around and head straight to Alaska or Canada waters in the northwest.
The RIGHT gear is so important. It can be the difference between having a great salmon fishing experience and a bad or horrible one. You have probably heard people talk about not skimping on gear – and to buy the best gear you can afford – just to make sure your experience is the best possible.
We have the same idea, but we're not going to recommend the most expensive gear here – just the best we've tested over time. Sometimes it is the most expensive because there is just nothing comparable you can buy for less money.
Let's get into it…
Best Salmon Fishing Gear for Your Trip
There is a lot to cover, and this page will be a long one. Scroll through, and if there's something you haven't purchased already, read our section on that gear item and see if it's something you could see yourself using.
Lightweight Outdoor Pants
Not sure why I'm starting with pants, except that I sure appreciate the ones I have and have been using for years. I want to talk about them a bit.
For a lightweight pant, I chose the Columbia brand years ago and I couldn't be happier today. Today's model they're selling is the Silver Ridge Cargo Pant. I used them last night on a pier fishing excursion, and I use them every time I go outside at night, or when it's cool enough to wear pants.
This one is super-light at 305 grams (10.8 ounces). The material is a special nylon with Omni-wick. This is their gore-tex variant. It repels water quite well and allows the material to breathe – keeping legs comfortable and cool in the heat. You can wear them in the cold with layers underneath too.
Sizing is right on for the Silver Ridge Cargo Pant – I wear a 36, and it fits well. Sizing for their convertible pants – the kind with the zipper-off pant-legs is not so right on, and I took a size 40 in that style just to have something big enough for my thighs.
See the Silver Ridge Cargo Pant I use here >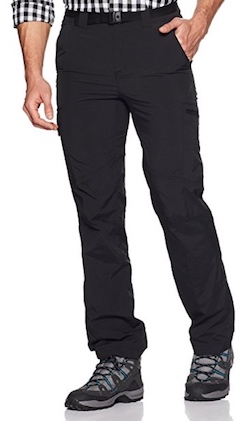 Find these Pants Here >
See the Columbia convertible pant here >
Find these convertible (zipper off pants) here >
---
Salmon Fishing Vest
Fishing vests are considered essential gear, no matter what species of fish you're targeting. Orvis is a well known very high-quality brand. You won't go wrong buying an Orvis vest for salmon fishing.
Lightweight Orvis Salmon Fishing Vest >
Find this Ultra-Lightweight Salmon Fishing Vest here >
Orvis Salmon Fishing Vest >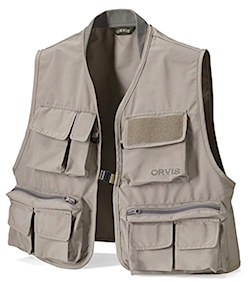 Find this Classic Orvis Vest here >
---
Glare Cutting Fishing Glasses
Polarized sunglasses are a necessity on the water – whether on the shore, a pier, or in a boat. These not only block side light from hitting your eyes and degrading your vision in bright sun, but they are polarized so you can see through the top layer of water that is usually filled with reflections.
Polarized lenses cut down dramatically on glare and allow you to see the fish underwater.
Polarized Oakley Sunglasses for Salmon Fishing >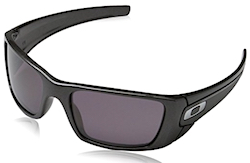 Find these great fishing sunglasses here >
---
Fishing Footwear
Some low-cut hiking boots with gore-tex is essential in our opinion. We have one brand we usually replace our old boots with – North Face.
Their gear is sometimes overpriced in some areas. Raincoats for instance. Their boots are expensive, but we found them to be worth the extra money.
Here are the Men's North Face boots we're currently recommending, and using >
Find these Very High-Quality North Face Boots here >
---
Salmon Fishing Boonie Cap
Not sure exactly why it's called a Boonie Cap, but I think the term comes from the Vietnam war, or at least that era. I found mine online, and I was lucky enough that it was a good one. It's always a guess when shopping online.
That's why I want to give you the exact links to buy what I have. What I know works well for me, and probably for you too.
This one is great because it seems to soak up the sweat – without smelling. No idea how it happens, but I've sweat in this thing so many times and then there is still no smell. So, I sweat in it again without washing it because I'm not thinking it's dirty. It IS dirty, but I have to remind myself to rinse it every now and again.
This Boonie is breathable and lightweight. It isn't the lightest-weight hat you can find, but it gets the job done – keeping rain and bugs off my head when needed.
Find Vern's Marine Standard Issue Booney Cap here (Green)
Buy this Green Colored Boonie Cap here > (choose color)
Desert Sand Color >
Buy this Sand Colored Boonie Cap here > (choose color)
Columbia's Booney Cap – Ultra-Lightweight >
Find this Super-Lightweight Columbia Boonie Cap here >
Here's a Cheaper Alternative in Dozens of Styles >
See all the Different Colors of this Style Boonie Cap here >
---
Raincoat
The choice of a raincoat is going to be one of the most important choices you make when deciding on gear you need for your salmon fishing adventure. I've tried a couple of different brands, and finally settled on LL Bean rain gear for my outdoor needs.
My current raincoat was a gift, and what a gift it has been (besides the blue color!) It has kept me dry in torrential rain in Florida and in Thailand during snake-hunting field trips.
My raincoat has a large hood that closes out the rain well and allows me to either go from place to place in it, or stand in pouring rain and come up dry in the end. I always like LL Bean gear for functionality, but their rain gear is the best. HIGHLY recommended.
Women's Blue Raincoat from North Face
Find this Women's North Face Raincoat here >
Women's Light Grey from Columbia >
Find this Women's Grey Trenchcoat here >
Men's Columbia Camo Green Rainjacket >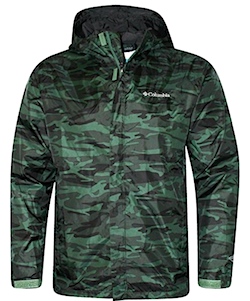 Find this Cool Green Camo Raincoat here >
---
Utility Knife / Fishing Tool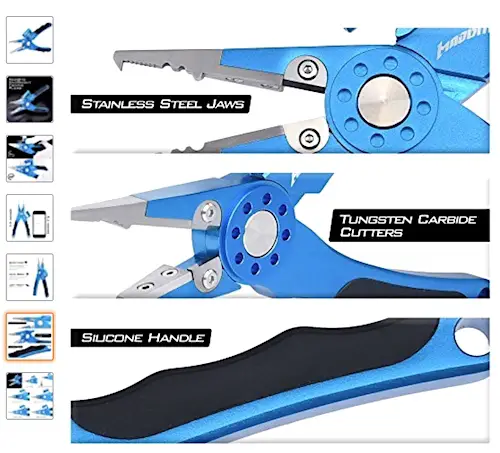 These fishing pliers have a number of tools built in that make it a very useful tool. They are lightweight aluminum too. They have a very bright light mounted to the pliers to help you see in the dark when necessary. They have braided line cutters, sinker crimper, hook remover, and split ring tool. Lightweight and essential tool – everyone has their favorite fishing multi-purpose tool. This is ours.
Find this Super-Useful Fishing Tool here >
---
Waterproof Camera
This camera we haven't bought ourselves because we already have a drawer full of cameras. We continue to use our older Nikon AW100 when we need something waterproof and tough enough to withstand travel to somewhere remote.
If you don't have an old camera – this Olympus Tough camera will do nicely. Olympus consistently wins or places very highly in the waterproof camera comparisons at DPReview.com – one of the premier websites for professionals and new users.
Our friend from Miami had one and we got to give it a try. It produces great images and video, and was tough as nails on our trip, and he raves about it. We feel comfortable recommending it to you.
Olympus Tough
GPS
Manometer
Compass
Temperature sensors
F/2.0 lens (bright) with ANTI FOG
Waterproof to 50m, crushproof to 220 lbs., dustproof, freezeproof to 14°F.
See the RED and BLACK Olympus Tough Camera here >
---
Waterproof Gear Dry Bag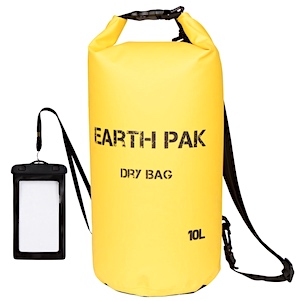 There are hundreds of different waterproof gear bags you can buy. This one has over 1,000 very high reviews – and the bags are well made and always available. Many colors are available at the link below.
See the Many Colors of this Dry Bag here >
---