This fishing story could also be entitled, "Nephew Loses Uncle's Brand New Rod," or, "My brother Ruins our First Day of Trout Fishing!"
My brother and I were really excited about getting the chance to go fishing on the first day of trout season allowed that year. I was twelve and he was eight years old.
I had only been trout fishing once before at a lake, so I didn't know what this stream fishing was all about.
I just knew we were about to do the coolest thing ever as we were going to ride in a massive 30+ foot Winnebago mobile home and sleep there for a couple nights as we fished during the daylight hours.
My uncle Jim had been a real support for my mother as we grew up because he took me and my brother hunting and fishing as we grew up.
This gave my mother at least a dozen days a year when we were away from home and not causing any trouble.
My mom's brother, Uncle Mike would also be going. He was about nineteen years old and he was a good fisherman already.
I remember walking up into the Winnebago and my uncle Jim showing us all that we had to know about our mobile home for the weekend.
There was a sink, stove, oven, toilet, shower, and lots of places to sit around or sleep.
My brother and I had the coolest place to sleep, up above the cab. We were actually looking out the front window and could see all the traffic from high up in the camper. We had pillows up there and a sleeping bag for each of us.
The ride was a couple of hours, but we didn't mind at all. The longer the better, we thought.
We were going to McConnell's Mill in Slippery Rock, PA. There was a stream right there that was stocked with trout, and it was one of the most picturesque places to trout fish in the state, I'm sure. I'll add a photo here from Google Maps.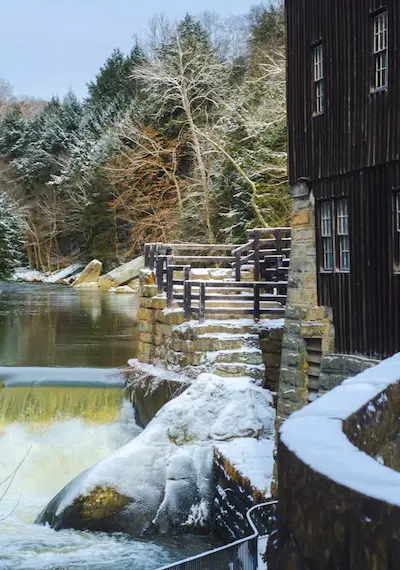 The first day of trout season is always cold and usually cold enough to snow in Western Pennsylvania. On this morning, it was frigid with temperatures hovering around 22°F. It was early April and we'd had a rough winter that still wasn't gone yet.
I remember we found a place to park the camper in a camping area and grilled up some hotdogs with mustard and ketchup. That hit the spot. Then it was already time for bed.
There were little lights all over the inside of the camper, it was fun trying to find new ones.
We fell asleep content and happy not to have to brush our teeth or take a shower like we had to at home. We loved camping with my uncle.
We woke up early, around 5 a.m. I think the horn was supposed to go off at 6 a.m. signaling the start of trout season in Pennsylvania. We ate some pancakes with slices of apple my uncle cut with his old penknife.
He literally cut everything with that nife and never washed it, so it was always a bit of a risk to eat something he cut with it, but we ate apples, carved sticks, cleaned our shoes of mud with it, and gutted fish with that knife.
It was good for everything and Uncle Jim didn't know the word minimalist yet, but that's exactly what he was.
The four of us trudged out into the night and followed my uncle Mike who had a weak flashlight. We walked down a path that led to the stream and McConnell's Mill.
They figured we'd fish right there since it was convenient and there was a small dam there which the trout probably liked.
The snow and ice crunched beneath our shoes as we walked for about twenty minutes to reach our fishing spot. There were already about a dozen other anglers there waiting to be among the first to throw a line in and catch the first trout of the year.
We spread out along an area just downstream from the dam. My brother and I stuck together and my uncle Mike was on my right about twenty feet away and uncle Jim was even further upstream. He may have been above the dam.
The wind was cold, and yet we were protected somewhat by the mill and the trees. The stream was of course in a gulley and the surrounding hills blocked much of the wind.
Still, if it came down the same way as the water it did give us a chill.
There were about three inches of snow on the ground and it was obvious that some rain had previously frozen as well. Things were slippery, but all we were doing was standing still so we didn't think there'd be anything to be that cautious about.
The water was ripping fast down the stream like rapids. It was too shallow to take a raft down, but some areas had deep spots.
The horn went off and we all threw our lines in at once. To my brother's and my credit, we didn't foul our lines by crossing them like some other anglers downstream did immediately.
I remember having a couple of bites and not catching any trout initially. I remember my brother not being happy with where he was fishing so he kept wanting to move. My uncles told him to stay put and that we'd move in a bit.
They were already catching fish and it was encouraging to at least see someone we knew putting fish on a stringer.
I had a good bite and I was ready to set the hook when my brother slipped and was suddenly off balance and tip-toeing across icy snow-covered rocks much too fast to be safe about it.
He was actually completely out of control and just running across rocks to keep from falling in.
Eventually, he hit a nice ice-covered rock that launched him right into the ice-cold stream. I saw him go in, and it was all so sudden that I couldn't really believe what was happening.
I watched as he floated downstream, too cold and breathless to even scream.
Luckily, my uncle, Mike saw it and my uncle Jim was also running toward him in no time at all. My brother had hit a rock that stopped him briefly, but then he kept going. Everyone was screaming to him to grab a rock, but there was no way to do so.
The rocks were very rounded and slippery. There was nothing to grab onto.
Finally, someone held out their fishing pole and my brother quickly grabbed it and pulled the top half off it, floating further down the stream. I could see total panic and helplessness in his eyes now. I wasn't sure if he was going to die, or what!
Finally my uncle Mike was able to reach out to him and offer him the thick end of his fishing rod and my brother grabbed it and was pulled in toward the bank. I remember them pulling him out. He was blue, he was so cold.
My uncles immediately stripped him down naked and covered him in their own jackets. He was shivering uncontrollably. For some reason, they thought he'd be fine like that so they went back to fishing!
After a couple of minutes, they realized he needed to be warmed by the heater of the camper so my uncle Jim walked him back to the camper and warmed him up.
We learned later that my brother had sent my uncle's brand new rod sailing through the air as he was falling, and it went right into the deep spot of the stream!
My uncle was so angry at my brother because he hadn't even had a chance to use the rod and reel yet and it was already lost.
We fished for a while after that, but my brother and uncle Jim stayed in the camper because my brother wasn't doing so well. I don't remember catching any trout at all, I just remember that my brother damn near died in a very cold stream that morning!
IF YOU WANT TO ADD YOUR FISHING STORY TO THIS PAGE, SEND IT TO ME USING THIS FORM AND I'LL POST IT HERE.