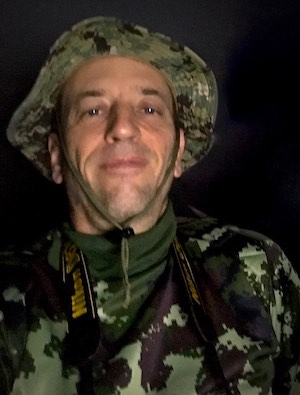 Vern Lovic is the main writer for Salty101 and other outdoors sports (Crank101) and meditation blogs. At one time he had 9 fishing websites with names like Redfish101, Snook101, etc. This was right before he started Salty101. He has now let most of those websites go and focuses 100% on Salty101.
After high school Vern joined the United States Air Force for 4 years and enjoyed serving his country from what is probably considered by most to be the best assignment in the Air Force, Hickam Air Force Base, Honolulu, Hawaii.
School was next. He has BA and MA degrees from the University of South Florida, Tampa, Florida. He worked with children in a "Big Brother" program sponsored by the City of Tampa for 3 years.
He has spent over a decade honing his skills at catching saltwater and freshwater fish of every kind from the shores, docks, piers, fishing kayaks, inshore flats boats and deep sea fishing boats in the State of Florida.
A fishing fanatic, Vern was born in western Pennsylvania where he was fishing for freshwater bass and trout, pike, and musky from the time he could stand up. He came from a fishing family and trips in his uncle's Winnebago for extended fishing trips were well taken advantage of but never seemed to satisfy his craving for catching more fish.
Fueled by an unquenchable thirst to see more of the world, Vern moved to Honolulu and Maui Hawaii, New York City, Miami, Florida and Thailand to see more of what the world had to offer.
He has fished extensively in Pennsylvania, Virginia, South Carolina, Florida, Key West, Oahu Island, Maui Island, Canada (Vancouver and north to Shuswap Lake), and Thailand (Phuket, Phang Nga, Krabi, Ubon, Suratthani).
In addition to being the only writer at Salty101.com and publishing over 160 articles and 240,000 words of content since 2019, Vern has an outdoors website, a snake website, and is working on a salmon fishing website (Salmon101).
Vern is an author and has published over a dozen books at Amazon (author page here) and has had a successful (55 million+ views) outdoors YouTube channel. With the creation of Salty101.com he also became an Amazon Influencer where he maintains pages of recommended fishing gear. Find him at LinkedIn here, and Twitter here.
Vern's area of fishing expertise in Florida remains the west coast where he spent over a decade fishing every kind of water he could find. Favorite species and typical saltwater target species from his ocean fishing kayak are: Snook, Sheepshead, Redfish, Cobia, Wahoo, Grouper, Snapper, Permit, and Pompano.
For freshwater, the brown trout and rainbow trout have a special place in his heart (and stomach) as do freshwater bass in lakes all across Pennsylvania.
If you have any fishing questions you can't find the answer to, write him and see if he can help. Response time can be a bit slow, but it's coming!