The original Whopper Ploppers by Minnesota fisherman Larry Dahlberg were long floating topwater plastic fishing lures with 2 treble hooks and a propeller or rotating tail on the back which spins and makes a trail of bubbles and a plop-plop noise.
This action proves irresistible to many topwater fish species like freshwater bass and even saltwater fish like Snook, Jacks, Mahi Mahi, and other Florida gamefish. The name of the company making the real ones is – River2Sea.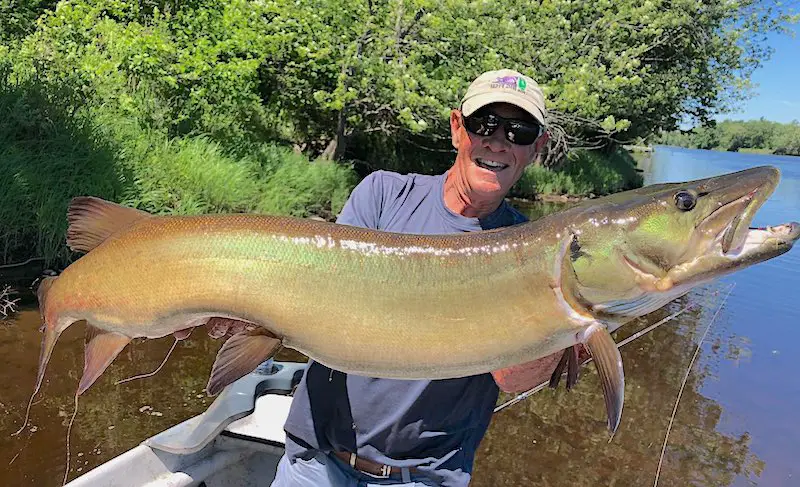 Here's Larry with a muskie big enough to ride in Costa Rica. He's a lifelong fisherman with a lot of experience with freshwater fishing. Thing is, his lures are productive for both freshwater AND saltwater fishing.
Choose and Buy from Our Selection of Favorites BELOW ꜜ
What is the Whopper Plopper Used For?
It is a small fishing lure that floats on the top of the water and when pulled, creates bubbles and splashing from either a loose floppy plastic tail that slaps the water, or some of them have a propeller that turns to create bubbles. Fish love the noise and the bubbles and cannot resist a strike. It's kind of a prop bait and sort of a buzz bait.
How To Use the Whopper Plopper Correctly for Catching Fish?
This lure is designed for a straight retrieve as far as you can throw it. The lures have some weight to them so you can probably put them where you want with a cast or two, especially the 5-inch long lures or bigger. The retrieve can be erratic or smooth – try both to see what entices a strike. We usually just toss it out there near the bank (from a boat) and let it sit for a second before slightly twitching it once. Twice. BAM!!!! Another favorite technique for this lure is to throw over the fish and retrieve quickly and smoothly right overhead. Bass and Snook respond favorably to this sort of action.

What Size Whopper Plopper is Best for Big Bass?
Any lure over 3-inches is good for the bigger bass in whatever lake or river you're fishing. We have a selection of our favorites at the bottom of the page, or have a look at this one (our favorite).
What Color Whopper Plopper Works Best?
We have caught all kinds of fish on this thing, even Mahi Mahi which did tear up the lure a bit. Oh, and we had a Spanish Mackerel rip a treble hook almost completely off the back. Other than that, the smaller fish are easily caught on the 3-inch lure. I guess if we had to pick, our favorite colors are the black (loon color) Plopper and the white or yellow one. The yellow one we mean is the one called "bone".
Are these Fishing Lures Worth It?
Yeah, sure. I mean, what lure isn't over $9 at this time? Lure prices have steadily gone up and if I can get mine around the price of Rapala lures, then I go ahead and do so. Most of the Whop Plops are around $12 each. if you get them in a set, you can find better prices and then they are more than worth it to buy.
Do You Have a Whopper Plopper Size Chart?
Whopper Plopper Size Chart (Inches and Centimeters)
WP 60 = 2 3/8 inches (6 cm)
WP 75 = 3 inches (7.6 cm)
WP 90 = 3.5 inches (8.9 cm)
WP 110 = 4 3/8 inches (11.1 cm)
WP 130 = 5 inches (12.7 cm)
WP 190 = 7.5 inches (19 cm)
What Does a Whopper Plopper Do to Attract Fish?
The spinning plastic tail flops in the water and makes a very realistic sound of a fish on top of the water. To be honest, in nature, this just doesn't happen unless the fish is injured, and then it would go short distance and stop, or be spinning around in circles, right? It doesn't matter. The action on these Whop Plops is so good that fish cannot seem to resist.
Here's a video showing the Whopper Plopper's spinning tail action on topwater at a lake (crystal clear):
What Are the Best Whopper Plopper Lures to Buy?
Well, there are so many, but if you get these three lures based on what size fish you want to target, you'll have some tools in your box that will catch you fish almost anywhere.
Best for Small Bass, Snook, Jacks, Spanish Mackerel
Best for Bigger Fish
Best for HUGE FISH