Speckled trout are found all along the coast of Florida in the shallow saltwater around shore, sandbars, islands, and patches of mangroves. So, in one sense, you could say the best spot to catch speckled trout is wherever you are along Florida's coast. There is one place that we recommend over any other that we've fished for decades. For us and thousands of Florida anglers, the best place to catch speckled trout in Florida is at Fort De Soto Park in St. Petersburg near the Sunshine Skyway bridge. There are many shallow areas of sand covered with seagrass where speckled trout (spotted trout) can be easily be found.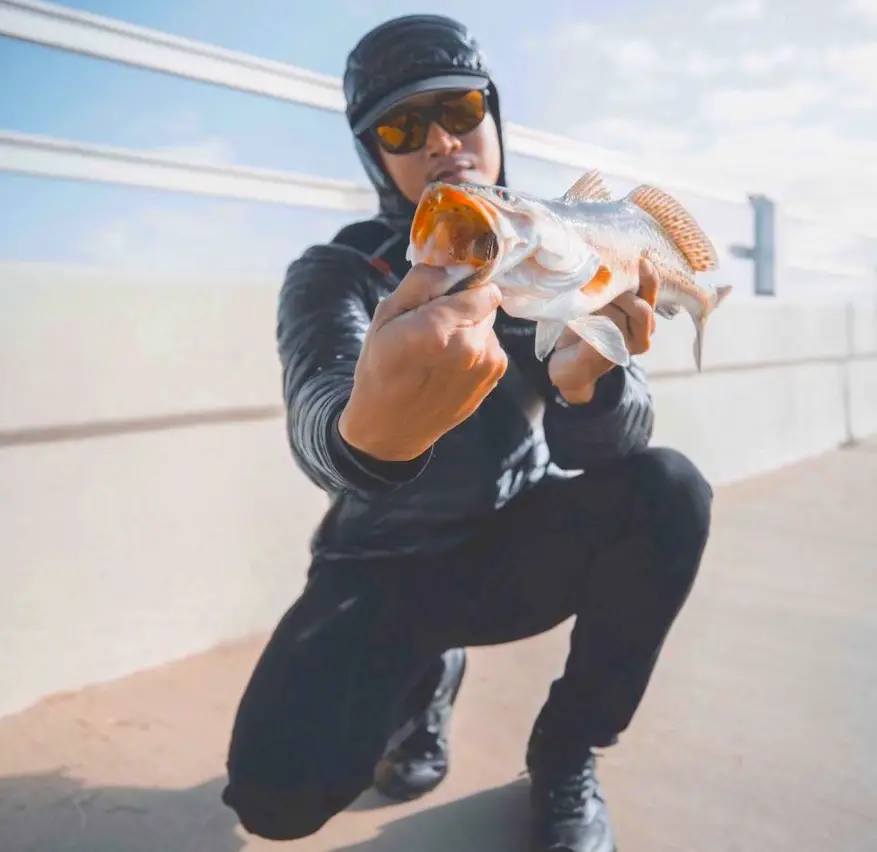 Fort Desoto State Park, St. Petersburg
Fort Desoto Park is a very reliable fishery, constantly producing big trout and other species every year. For the exact location we like to catch speckled trout at this park, CLICK HERE to use our GPS coordinates to map the spot. The red marker marks the exact spot I've fished for years, catching hundreds of speckled trout. Please treat the area kindly!
Fort Desoto Park, as you can see from the aerial photo below, has many shallow areas around trees and where the sand drops off to deeper areas where trout like to hide in the grass on the bottom. The park also has a well-stocked fishing supplies store at the fishing pier. You can buy pinfish, shrimp, and other bait and pick up whatever rigs you need to fish from the pier or other areas of the park.
I highly recommend driving to the Arrowhead Picnic & Fishing are of the park. You can park your car in the shade (mostly) and cook up some chicken or fresh caught fish if you're ambitious. This is an OK place to launch your kayak too during a high tide. One of the real highlights of the park is that it has restrooms! If you are the kind of angler that feels the call of nature in the middle of your wade fishing and you don't feel like dropping your pants right there in the water, you'll be happy to know there are a couple of restrooms in the park you can use.
Where Is the Best Spot to Catch Big Speckled Trout?
Big trout lurk in slightly deeper water and are enticed to strike by bigger fish or plugs as bait. While you can catch speckled trout just about anywhere along the coast, the big ones require a bit of expertise and patience because they are quite wary when the bait presentation is not perfect. How do you think they got so big?!
The best spot for big speckled trout over a couple of pounds is in places where the seagrass is thick and there are mullet around. Mullet are the preferred food for big trout, and they'll inhale a 10-inch plus mullet when hungry. Thing is, they're not always hungry when they're that big because it takes a while for a big mullet to digest. Hence the conundrum of catching big trout! Find 'em when they're hungry and you're set. Problem is, they're not usually hungry.
To be honest, I've never caught a speckled trout over about 6 lbs. I just don't really have the patience to target bigger trout like some anglers do. My trout-catching plan always goes something like this.
Buy three dozen shrimp (as big as they have) at the Fort Desoto Fishing Pier.
Freeline shrimp on a 6 lb. test monofilament at the Arrowhead site into water around 5 to 9 feet deep.
Keep a couple of the smaller legal-sized ones and throw back the rest.
Using shrimp on a 1/0 hook without weight is a very effective bait and method to catch specks. Unfortunately, you're almost surely not going to catch a massive trout using just shrimp, no matter how big. That, and you're also allowing other competition (bait stealers) to come in and grab your bait before a trout can reach it. Using a bigger baitfish or a bigger plug will avoid the baitstealers, though you won't catch as many trout. You may catch bigger trout though!
The World Record Speckled Trout
The biggest speckled trout ever caught was in Florida off a beach in a river in the small city of Fort Pierce on Florida's east coast just south of Orlando and north of West Palm Beach. Craig Carson's massive trout was a huge 17 lb. 7 oz. fish caught in May of 1995. A topwater (floating) plug was used to catch the big trout. Craig stopped at a verified scale at a fish market before taking it home and eating the big speckled trout. It crushed the old record by over a pound!
Other Great Speckled Trout Fishing Spots
Weedon Island St. Petersburg
OK, sure, we're in Tampa so it's logical that our best fishing spots are around here. We have traveled around Florida a bit to fish, mostly to the Florida Keys, Sebastian Inlet, Sarasota and Bradenton, and over in Daytona. For speckled trout, we think the east coast is a really great place to fish and be – so we recommend it more often.
Weedon Island is an area off 4th street North in St. Pete that is shallow and filled with sea grass and sandy bottom. There is a huge variety of fish found here, and while wade-fishing you can catch a number of great species like trout, snook, redfish, flounders, and even sharks. It's a great place to cast for baitfish too – and I always make a stop here to do so if I'm passing by on the way to my fishing spot.
Stump Pass Park in Englewood
South of Sista Key and Longboat Key is a little park called Stump Pass which is great for a kayak or small flats boat. Catching trout here is not difficult when you find the right spot, but for me it is changing each time I go. I don't get down there often, it's a bit out of the way, but the last few times I've caught tons of trout without hardly trying. Most times I'm targeting other fish and catch specks by accident there!
Sanibel Island in Fort Myers
If you do have a kayak or small fishing boat, you'd be doing yourself a disservice if you didn't stop here at least once per year to fish Sanibel Island and the entire area around Fort Myers. There are hundreds of places to find speckled trout in these shallow areas, and because there are so many, you won't find the spots crowded very often. Yes, everyone knows about Ft. Myers as a prime fishing spot – but there are just so many places that are spread out and remote that you can surely find somewhere to get lost in the mangroves! And, that's a good thing!
More Fishing Guides with All You Need to Know
Deep Sea Fishing | Kayak Fishing | Pier Fishing | Inshore Fishing | Wade-Fishing