Florida is often thought of as the Saltwater Fishing Capital of the USA. It's true, we have exceptional saltwater fishing opportunities. But, let's not forget that our freshwater lakes, rivers, streams, and canals also offer an incredible variety of fishing spots you can enjoy every day rain or shine.
Living in Tampa, Clearwater, and St. Petersburg over the years I have to tell you that I was 90% focused on saltwater fishing.
I had a kayak and I would head out on Tampa Bay by just drifting down the saltwater canal on an outgoing tide. Saltwater was actually closer than any of the good lakes around my home.
However, there were plenty of days when I wanted to catch some Largemouth Bass. Some Bowfin. And even times I wanted to see some big gators and snakes!
My Favorite Freshwater Fishing Spot – Tampa's Hillsborough River (#31)
When I did get the urge to go catch some Largemouth Bass, Crappie, or Bowfin, I'd just drive up to the Hillsborough River in Temple Terrace (Tampa) and catch 3-5 pound fish as long as I wanted to stick around.
They are plentiful and I rarely saw anyone else fishing! At first I was disappointed not to see this river on the list of the Florida Wildlife Commission website's list of great spots to freshwater fish. Then I realized, it's SO MUCH BETTER not to have it on the list.
That way I can share it with you and you can enjoy it without the hordes of tourists that usually flood the great freshwater fishing spots.
Riverhills Park
On the map below, I've marked a few spots in Temple Terrace that were ideal for fishing. There is a little park there called, Riverhills Park. There is a boardwalk that goes along the water for 100 meters or so, providing access to the water for fishing.
The bass are in close and you'll only need a minnow or long worm/eel to catch them.
The largemouth bass nest really close to shore on the river and you can see their clean circles sometimes as little as 1-2 feet from the river's edge. They fiercely protect their nest, so if you drag anything under or overtop of them, they'll attack right away.
Probably the most fun is to use a long stick with a line attached and drop a little frog lure down on a lily pad near the bass nest. Next, make the frog hop to another pad and 'miss' leaving part of it in the water. Bass will attack the little frog on the topwater. Great fun!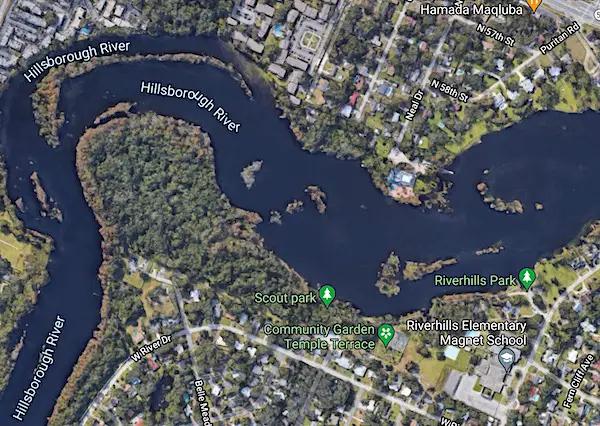 Lettuce Lake Park
The Hillsborough River begins at the Green Swamp, a wetlands area between Tampa and Orlando. There is a lovely little park up Fletcher Avenue called Lettuce Lake Park.
From here the river winds down around to eventually empty into Hillsborough Bay which is part of Tampa Bay. There is a boardwalk here through the forest and there are many places to freshwater fish.
The boardwalk is alive with wildlife, all kinds of birds and even the occasional snake wrapped around a branch. Squirrels, lizards… all kinds of fun stuff!
There are bowfin, crappie, tilapia, and gars to catch at this park and at the Hillsborough State Park further up Fletcher Ave. away from town.
One of my favorite things to do is to rent a canoe at the park and fish for big bowfin. They'll hit anything that moves, but the bigger, the better. Long eel lures, dead bait, live bait, whatever you've got.
Put a good sized hook on there – a strong hook and be ready for the time of your life if you make the mistake of hoisting the bowfin into your canoe to try to remove the hook. They flop around as if possessed. Better to remove the hook in the water if at all possible!
NOTE: Alligators are seen all over the Hillsborough River, so do be careful. At night you can spot them with a headlamp, just watch for their deep blood-red eyes reflecting back from the water! Alligators are not typically aggressive, but never get too close because they are very defensive.
Top Freshwater Fishing Spots by Florida Region
Map of Freshwater Fishing Locations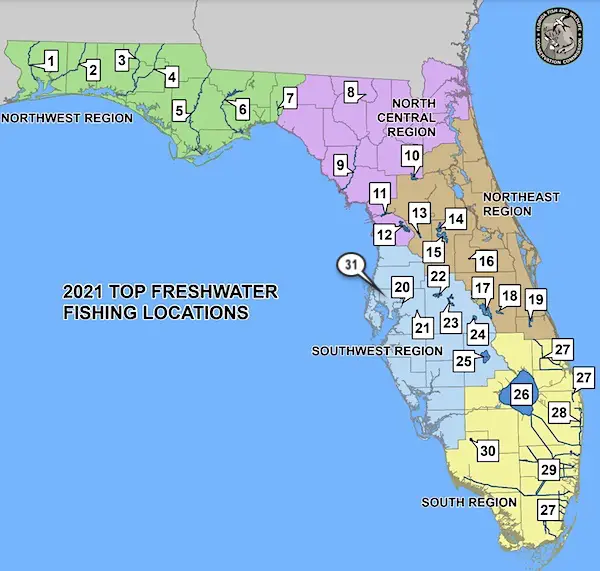 7 Hotspots in Northwest Florida
5 Hotspots in North Central Florida
6 Hotspots in Southwest Florida
5 Hotspots in Southwest Florida
7 Hotspots in Northeast Florida
The rating system: Circles mean this is a hotspot for "TROPHY" fish. Triangles mean fishing sites with HIGH CATCH RATES. Pluses "+" means SPECIALTY sites with unique fishing opportunities. Not sure what that means, and they don't explain.
Now, I don't want to say too much negative about the chart above, but the fact that the Hillsborough River (and so many other rivers) are not listed on this chart, it makes me question just how spot on it is.
I do think that every spot I know that IS listed is a great fishing spot, but whether you can call this spot better for trophy fish vs. this other spot, I don't think so. So, use the above rating-guide with caution.
Honestly, you can visit any large lake and catch all kinds of fish. Any of Florida's 60 rivers hold fish like Bass and Crappie. You can count on it. In fact, many of the freshwater fishing spots don't get people to them at all.
There are small lakes around Lakeland, Florida that I went regularly to and I never saw another person fishing them. I'm talking about 100-200 yard long lakes.
There are just so many lakes that hold big bass and other fish. You should fish wherever you're close to and see what you can find.
Instead of using the above recommendations as the ultimate list, just use their suggestions as some of the very good places to go freshwater fishing. You'll certainly catch fish at any of these spots, and it's good to have a list of them in one place.
The Canals!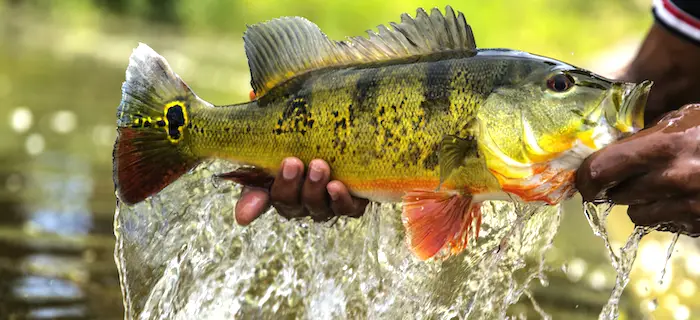 One more bit of advice, don't pass over the canals if you are nearby. I mean, I wouldn't specifically plan a day to fish the canals… Wait. I would. I have. OK, well, don't forget the canals because many of them south of Palm Beach have that colorful Peacock Bass that shouldn't be missed.
These are hyper-aggressive bass that attack lures and live bait with real anger. They're a blast to catch. I hope you don't miss out on this opportunity.
Freshwater Licensing
If you haven't yet checked out what all is needed to be able to legally fish in Florida State, you could do that now. We have a page all about it that we think simplifies the process for you.
There are some exclusions that you might qualify for if you are older, younger, or have a military background. Do take licensing seriously, there are plenty of wildlife officers out there looking to ticket people for illegal fishing and harvesting – whether in fresh or saltwater.
Find out which Florida Fishing License and Permits you need >
More Fishing Guides with All You Need to Know