St. Augustine is a city rich in American culture. The historic districts look like they did hundreds of years ago. What's not in town is this amazing fishing pier called the St. Johns County Ocean and Fishing Pier – a huge name.
Let's shorten it to St. Johns Fishing Pier for this Pier Guide!
The St Johns Pier is located just south of Jacksonville on Florida's Atlantic coast in the far north. The pier is 32 miles south on Highway A1A from the the Jacksonville Beach Fishing Pier and about 100 miles north of Orlando.
This Fishing Pier is 620 feet long and juts straight out into the Atlantic Ocean facing due east. Sunrises on the east coast are amazing and highly suggested if you can get up that early! Fishing is good then too.
If you are in Jacksonville, Gainesville, or Orlando and you feel like some fishing – this pier is close enough to you that you can get there in a couple hours at the longest. Here's a complete guide with all the info you need to find it and catch some fish on this pier.
Fishing Hours?
Open at 7 am. and closed at 9 pm. every day of the week. That's not ideal, but at least you can go until 9 pm.
What Fish Can You Catch?
People typically catch a wide variety of fish at the piers. Here's a list of some you can expect to see being caught around you if they're biting. Hopefully YOU are catching them too!
Fish Commonly Caught at the St. Johns Fishing Pier
As usual, if you are planning on fishing the bottom you're going to catch stingrays, flounder, catfish, redfish, black drum, and the occasional cheeky crab grabbing your bait.
How Big Is the St. Johns County Fishing Pier?
The pier is about 620 feet long if you don't count the walkway and ramp that leads up to the pier. The straight part of the pier is 620 feet long. The length of pier over the water is at most about 520 feet long depending on the tide.
The width of the pier is about 14.5 feet across. That is plenty of room that people behind you don't interfere with your fishing. I did see some people bring their own chairs, but there are benches provided.
Fees
The pier is $6 per day for fishing adults and $2 if you're not fishing, just walking around or providing moral support for someone fishing. SJC residents can fish for $4. Handicapped and military anglers can fish for $2. Kids under 6 years old are FREE.
Is a Fishing License Necessary?
No, a day pass is included if you pay the $6 fee. If you need a license, you can get one online here – Florida saltwater fishing license before you arrive to fish. You can also do it online or visit Walmart Sporting Goods section.
Restrooms?
Yes, the park has public restrooms right at the pier and a nice little splash park for kids.
Shade on the Pier?
There are small covers over some of the benches on the pier. You can bring your own chair and umbrella if it isn't too large. People seem pretty laid back here.
Does the Pier Have a Bait Shop?
Yes, a small shop is right there at the pier and you can buy frozen bait and some snacks and cold soda drinks. They usually have hotdogs, corn dogs, hot pretzels, and boiled peanuts.
Is Rental Gear (Rod and Reel) Available?
Yes, when the bait shop is open during the park's regular hours, you can rent gear from the bait shop like rod and reel and buy bait.
Restaurants?
The closest restaurants to the fishing pier are listed below.
Rita's Italian Ice and Frozen Custard – Open from noon to 10 pm. This is the closest place to eat and snack to the fishing pier in St. Johns (St. Augustine). Located at 380 A1A Highway , St. Augustine, Florida 32080. Phone – +1 904 461-0977.
Antonio's New York Style Pizza – Opens at 11 am. to 9 pm. except Fri and Sat when they stay open until 10 pm. Right next to (same building) as Rita's. Address – 378 A1A Highway, St. Augustine, Florida 32080. Phone – +1 904 471-5200. Website. GPS 29.856185159617063 N, -81.2668146380456 W.
Pier Restrictions
We cannot even load the official website for the fishing pier but I can still be relatively sure about the rules of the pier because they're the same all over the state and every state in the USA. Look for a sign at the entrance to clarify what you can and can't do. I did see comments that say you can only fish with 2 poles max.
Prohibited on the St. Johns County Fishing Pier
Feeding birds, manatees, fish
Pets – dogs are allowed on a leash, and all service dogs allowed
Littering
Smoking
Fishing with more than 2 poles per person.
Skateboards, scooters, roller skates, rollerblades, surfboards, bikes
Jumping or diving, and sitting on the railing
Casting nets
Loud music
Any Live Web Cam on the Pier?
Yes! Here's one on YouTube showing the beach, wave action, weather, and how busy the pier is. This one started in March 2022 so if it's already offline, please let me know so I can update the link.
Where Is the Pier Located?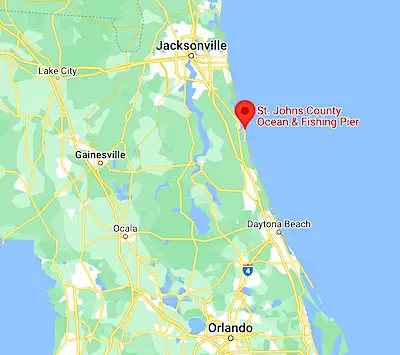 This pier can be found very close by the sand volleyball courts at St. Augustine Beach.
See the map image above, or use the GPS data below to see the pier location in your favorite map application.
The address is: 350 A1A Beach Blvd, St. Augustine, Florida 32080. The GPS coordinates of the end of the pier are 29.85725541513659 N, -81.26351188215953 W.
Where's Parking?
There are 211 parking spaces beside the volleyball courts and pier which makes it quite convenient when fishing the St. Johns Pier. The parking is FREE.
The piers are ADA (American Disabilities Act) compliant and there are handicapped parking spots available in the main parking lot and ramps to get up onto the pier.
Cautions
Birds eating your bait or grabbing it in mid-air and hooking themselves can make for a real bad day of fishing. And as you know, that is DIFFICULT to do! Take extra care that birds don't get hooked as you cast and when your bait hits the water.
If you do hook a bird, put a shirt over it and remove the hook if it looks like it's easy to do. You may need to take the bird to a veterinarian. See our guide for removing hooks from birds here.
Short 1-min. Video of the St. Johns County Fishing Pier and Park
I found this short video of fishing on the pier. They catch whiting, flounder, bluefish, an angel fish, a pufferfish, and someone calls a crevalle jack a "pompano". Looks like a nice pier and nice group of people. This shows the pier after renovation.
Pier Social Media
Call them at this phone number: +1 904 209-0326
The city has a page for the pier that doesn't load. Instead you can find them on Maps here.
An Instagram search turns up less than 200 photos.
Where's the Closest Fishing Pier to Me?
If you live in Jacksonville, Orlando, or anywhere near St. Augustine, head over to the St. Johns County Ocean & Fishing Pier despite the incredibly odd name of the thing.
The Jacksonville Pier is also a great one. We'll link to some piers that are in driving distance and close to you below.
If you need help with fish, don't forget we cover all the top Florida Gamefish with huge guides for each on this page – Top Gamefish.
Piers Close By Northeastern Florida and Georgia
This one! (St. Johns Fishing Pier)
[Image credits: Map image from Maps.google.com. Featured image from unsplahs. Kathryn image from county's official facebook page.]