Just 12 miles (19 km) north of Vero Beach on Florida's East Coast is one of the best fishing piers in the United States, Sebastian Inlet Fishing Pier.
This inlet has a lot of history to it. For years there was debate about whether to open the land enough to allow the ocean to come into the landlocked Indian River.
They were unsure about the environmental impact and other problems it may cause.
Eventually they got the legislation through and removed the land barrier that blocked the ocean in 1918 and again in 1923. Now we have what some call the best fishery in Florida!
If you haven't fished Sebastian Inlet Pier yet, get out there this year and see what it's all about!
What Time Does Sebastian Inlet State Park Open and Close?
This park and fishing areas are open 24 hours a day 7 days a week. This is great for all of us die-hards who would rather stay all night than stop fishing at all. Sebastian Inlet has a lot of tradition to it.
Generations have fished here and passed down the tradition to their children and friends. The place is special, you'll see that when you arrive.
Fees? Is a Fishing License Included?
Fees are very reasonable to enter the park at just $8 per vehicle (2-8 people). $4 single-occupant vehicle. $2 pedestrians, bicyclists, extra passengers, passengers in vehicle with holder of an Annual Individual Admission Pass.
This does not include your Florida saltwater fishing license.
Here's information about buying your saltwater fishing license.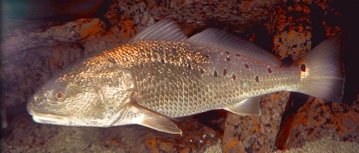 How Big is the Pier Fishing Area?
The North Jetty has 190 yd (173m) over the Atlantic Ocean, and a rocky area before it that I never see anyone fishing from. The jetty is obviously the 'place to be.'
It is always more crowded here than the South Jetty. Only 75 people fishing or so makes this pier a bit too crowded for my liking.
The South Jetty only has a short 60 yd (55m) pier out from the beach, but it has a long 213 yd (195m) rocky section that includes the pier that you could fish from. If you had 25 people on the short pier section here, it would be quite crowded.
If you have 25 people fishing at the South Jetty, that's going to feel like almost too many.
Both jetties are American Disabilities Act accessible for handicapped users.
If there's one unfortunate thing about this the Sebastian Inlet Fishery, it's that there just isn't enough space for very many anglers.
I realize they didn't create this inlet for fishermen, it had a much bigger purpose, but another 100 meters of space would go a long way here!
I can't really remember fishing Sebastian Pier when it wasn't crowded to some degree. If you don't like going elbow to elbow with other fishermen/women then this probably isn't your ideal fishing pier. See more Florida fishing piers here.
What Fish Can You Catch at Sebastian Inlet Fishing Pier?
I've fished Sebastian Inlet Fishing Pier about a dozen times over the years. It was a bit of a drive for me and to be honest, fishing the west coast of Florida is just more familiar so I usually just stayed around the Tampa to Sarasota range.
Sebastian Inlet is 15-16 feet deep and has very strong tides because all of that trapped water has only one way to get out, through the inlet. At different times of the year you can catch schools of fish migrating to warmer or cooler water up the coast as the seasons change.
The list below covers the usual species available at this fishing pier.
Commonly Caught Fish at the Sebastian Inlet Jetty
bluefish
snook
redfish
jacks
sheepshead
tarpon
grouper
snapper
sharks
kingfish, Spanish mackerel
pinfish (for live bait)
catfish
You may see porpoises, rays, egreats, eagles, hawks, turtles, and even alligators occasionally.
Does the Pier Have a Bait Shop?
No, it doesn't. Long Point Bait & Tackle Restaurant is less than 2 miles (3 km) up the road to the north and they have a good selection of frozen and live bait usually. They have a big place with lots of snacks and accessories for fishing like hats and coolers, not just the usual fishing gear.
They open at 6 am. They have a restaurant too, so it's a great place to stop by if you're hungry after fishing at the pier.
You can buy frozen shrimp and squid, and they have some artificial lures and all of the crucial gear like line, hooks, floats, sinkers, swivels, buckets, and other stuff. Bring cash, they don't accept cards, crypto, bank transfers or anything else.
Places to Eat? Restroom? Shade?
Surfside Grill has sandwiches and hotdogs, french fries, and lots of other things to eat. It's located within view of the North Jetty just north in the Park.
There is 'Long Point Restaurant and Bait Shop' under 2 miles north of the fishing pier is a good place to go when you get hungry. They have a high rating on social media channels.
There are two restrooms in the park and none on or near the pier.
There is no roof on the pier and no benches.
Is Rental Gear (Rod and Reel) Available?
At bait shops you can rent rod and reel. Bring your own lures, hooks, and other gear to save money if possible. You can buy at Amazon or Walmart..
Pier Restrictions?
At Florida State Parks they are usually rather restrictive about the following list of things. This is to ensure that overall people don't intrude on others' rights to enjoy the place. That said, there's nothing that restrictive and it's always fun to spend a day or evening fishing at one of the amazing Florida fishing piers.
I cannot find a list of rules for the pier, but the following is probably in effect as is true at most Florida state parks. There is not much room here, so sit on a cooler or upside down 5 gallon bucket instead of bringing a chair.
And don't forget, if you want to play music, grill, sleep in a tent or in your car ON the pier, just go to the Sunshine Skyway Pier over in St. Petersburg. I like that pier a lot better than even this one!
Prohibited List
Tents
Fires, grill
Glass containers
Alcohol
Tobacco products and smoking
Pets
Bicycles, rollerblades, skateboards
Music
Swimming around the Pier in the fishing section (there is a swimming section)
Beach Umbrellas
Is a Live Web Cam on the Pier?
There is no live video feed, but there is a Sebastian Pier camera that takes photos every 10 seconds so you can see the state of the pier traffic and weather. There is detailed weather listed beside the photo that should be helpful too!
Actually, this is better than all live video cams I've seen. The detail is much better. Check it out here.
The fishing pier will be crowded on weekends from night until daytime. The pier is not that big so if it's crowded, you feel it. Many people know about this fishing pier and want to try it so people come from as far away as Canada to see what fish they can hook into.
Where is the Fishing Pier Located?
The Sebastian Inlet State Park is located on Florida's east coast south of Melbourne city and north of Vero Beach. If you drew a horizontal line across the state from St. Petersburg on the west coast to Sebastian Inlet on the east coast, it would be directly across.
The map below shows you the pier in the yellow circled area. The address is: at 9700 South Highway A1A Melbourne Beach, Florida 32951. The GPS coordinates of the fishing area at the end of the rock jetty pier are [27.861625997388444 N, -80.4448627753549 W].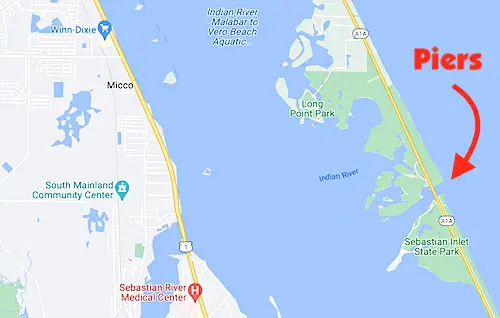 Parking
Parking is close to the North Jetty. In the parking lot close to the jetty there are 100 parking spaces. In the connecting parking lot a little further walk away is another lot with 102 parking spaces.
Keep in mind, this is not just for people fishing, but for anyone at the beach or in the park so it may fill up quick after morning.
You may want to bring a wagon, cart, or something to help drag your heavy gear out to the pier, it's a couple of hundred yard walk.
Cautions
If you're planning on doing any wade fishing, be careful about stingrays under the sand. Shuffle your feet as you walk, and ideally you should have some protective shoes on. Stepping on a stingray and getting lashed by the tail is no fun.
They have venomous barbs that cause tremendous pain and the wound can become infected. I stepped on one in Clearwater near the pier and it was a real bad experience. Here's my story >
Sebastian Inlet has a large park, much of which borders the Indian River area. The park has alligators in the water and sometimes on land and bull sharks so do be aware!
Catching Grouper, Reds, and Snook at Sebastian Inlet (Video)
This great video shows a couple of things. You'll see how crowded the pier is and the variety of species you can catch with big bait. These guys catch grouper, reds, and snook while out fishing the inlet.
Note, you'll have to accommodate people with fish-on because the fish move around after hooked and you don't want to cross everyone's line when that happens.
Website, Phone, and Social Media
Sebastian State Park phone – +1 321-984-4852
Their Facebook page is here.
An Instagram search has 37,000+ photos of the jetty and park and people enjoying the pleasant atmosphere of the place.
Where's the Closest Fishing Pier to Me?
Whether you live on the East or West Coast of Florida, there are some great fishing piers within short driving distance of your area.
The closest one may not be the best one, so we cover only the best piers in Florida at the links below. Choose "Fishing Pier Guides" below to get tips on pier fishing and to see ALL of our Florida pier guides.
Piers Close by Sebastian Inlet Fishing Pier
[Image credits: Images not marked with credits taken from their official website, videos, Unsplahs, and FB pages without listed copyright.]