Jacksonville is the nearest big city in Florida to the east coast and the first taste of Florida that many people get as they drive here on vacation.
If you've got a couple of hours, why not stop at the Jacksonville Beach Fishing Pier? It was recently renovated and raised up another 6 feet up off the water.
Locals are slap-happy about it and they're already catching all kinds of fish at "Jax Fishing Pier" as they call it.
If you are on vacation and passing through or you live anywhere near Jacksonville, come on over and try out the "new" pier!
Fishing Hours?
The PIER IS NOW OPEN! After a 3 YEAR RENOVATION! (July 2022) It was closed after damage from Hurricanes Matthew and Irma. The fishing pier in Jacksonville Beach is now open from 7 am. to 7 pm. at this time of year (summer). Note – pier will close in bad weather. Lightning strikes are common in Florida.
What Fish Can You Catch?
The Atlantic coast of Florida has some other fish you don't see much or at all on the west coast of Florida. Of course, the best gamefish can be found on both coasts with only a couple exceptions.
Fish Commonly Caught at the Jacksonville Beach Fishing Pier
whiting
speckled trout
black drum, red drum
flounder
cobia
tarpon
sailfish?
How Big Is the Jacksonville Beach Fishing Pier's Area?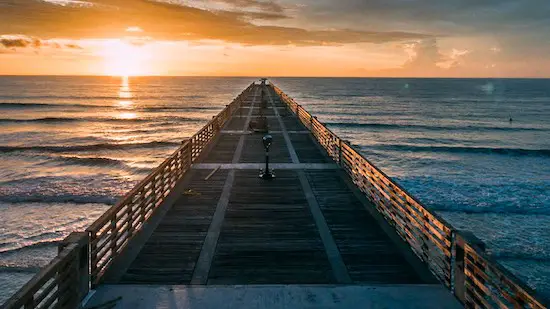 The pier is 437 yards (400 meters) long with about 370 yards of it extending out over the Atlantic Ocean.
The pier is 23 feet (7.7 yards) wide for the length of the pier. At the end is a rectangular fishing section that adds another 50 ft by 30 ft section.
It's tiring to drag a lot of fishing gear down a long pier. A cart can help a lot. You might want to think about finding a wagon or cart of to make it easier to make the trek. Here's one on Amazon that I liked. Collapsible. Affordable. Looks tough and has many good ratings.
Fees
The pier is free to go out on and fish. I haven't found any information about whether this includes unlicensed anglers too. Usually this IS the case and you can fish for free while standing ON the pier even without a Florida Saltwater Fishing License, but I haven't seen proper information about it.
If you've been there and know, can you send me email?

Is a Fishing License Included in the Fee?
Good question. There is no information anywhere I can find. Please let me know if you know.
To be sure you're covered, and to fish all over Florida, not just from the piers, you can buy a fishing license before coming. Get one online from the state MyFWC.com website or just stop by your closest Walmart and go back to the sports / fishing section.
If you're going to fish more than a couple of times in Florida and want to have the option to fish from a boat, shore, or anywhere else, it probably makes sense to buy a Florida saltwater fishing license.
Restrooms?
Yes, there are restrooms at the beginning of the pier near the restaurants and other shops. They are open now.
Shade on the Pier?
No, I don't see any shade on the pier at all. The City of Jacksonville is probably concerned about hurricane damage to structures with roofs and decided the pier could go without any roofs.
Does the Pier Have a Bait Shop?
Yes, they do. But it is not open at this time. I will update this page as it opens and I can find out what they have for sale in the way of live and frozen bait.
Frozen Bait Probably Available When Open
Is Rental Gear (Rod and Reel) Available?
Once the bait shop opens I'm sure you'll be able to rent fishing gear for the day here at the pier.
Restaurants?
There are a number of restaurants very close to the pier all along the beach. You'll have many seafood restaurants to choose from when you're ready to leave the fishing pier.
Pier Restrictions
There are always some rules you have to follow at the Florida Fishing Piers because there are a lot of people sharing the same space and it's better to avoid problems with some simple regulations.
Though not listed below on their official website, I'm quite sure you cannot start fires or grill on the pier, smoke, do drugs of any kind, play music, set up a tent, sleep there (at night), or sell your own bait or drinks there without approval from the City of Jacksonville.
But if you DO want to play music, grill, sleep in a tent or sleep in your car on a pier, just visit the north or south Sunshine Skyway Pier in St. Petersburg.
It's a heck of a drive from Jacksonville, but honestly this is an amazing pier that you're going to remember the rest of your life. If you're tired when you arrive, just sleep overnight on the pier! Your car is there, so grab the back seat or put the seats down and car-camp!
Prohibited on the Jacksonville Beach Fishing Pier
Thanks Raymond for this list. I had the hardest time finding what was allowed and not allowed.
Limit of 3 fishing rods per person (in the water)
No cast netting
No diving or jumping from pier
No sitting on railing
No alcohol or glass containers
No bicycles, skateboards or rollerblades
No surfboards
Do not feed the birds
No pets (except service animals)
Also, please use trash receptacles for all waste. JSO & other law enforcement officials have authority to enforce park rules & issue trespass warnings which may prohibit violators from using this pier for one year. That'd cut your pier fishing short!
Any Live Web Cam on the Jacksonville Beach Pier?
There is a live webcam that gets a video of the beach on the right side (south side) of the Fishing Pier and the last maybe 100 yards of the pier. It's difficult to see much detail if you're trying to figure out how crowded the end of the pier is.
It's easy to see the waves and guess what the wind is doing by the shape of the waves.
Where is the Pier Located?
The Jacksonville Fishing Pier is found on the Atlantic side of Florida (east coast) at the top (north) below Georgia. It is just south of Neptune Beach and just north of Oceanfront Park on Jacksonville Beach.
See the map above, or plugin the following address or GPS numbers to see the pier location in your favorite map application.
The address is: 503 1st St N, Jacksonville Beach, FL 32250. The GPS coordinates of the building at the end of the pier are [30°17'37.9″N 81°23'08.6″ W]
Where's Parking?
The parking at the Jacksonville Beach Fishing Pier is easy. There are 226 spaces right next to the pier in 4 lots, all fronting the beach. Parking is $7 all day on the weekend. There may be shorter time period fees.
The pier is ADA (American Disabilities Act) compliant and there are handicapped parking spots available and ramps to get up onto the pier.
Cautions
Birds love the bait you're casting out on your fishing lines just like fish do. Pelicans and seagulls will take your bait or your caught fish when you aren't looking.
Be cautious and don't cast your line overhead. Birds are waiting for that because it gives them the perfect chance to grab it in the air.
They easily become hooked, usually in the foot or leg. Please be very careful about this. Keep lids on your bait and coolers to help prevent birds from getting in on the action. Don't feed the birds either, please!
Remember to shuffle your feet if going into the water to fish. Stingrays are all over Florida's coast and they love to hide under soft sand. They have a venomous barb that hurts a lot. See my story about stepping on one!
Short Video of the Jacksonville Beach Fishing Pier Experience
Guys catching bluefish and redfish. Someone with a massive shark bait and sinker. I'm not sure whether it's legal to catch sharks or even fish for sharks at this pier now in 2022.
Pier Social Media
Call them at this phone number: +1 904-247-6236
Their website is here.
Their Facebook page is here. Not many followers, the page is in need of a better one.
An Instagram search turns up nearly 8,000 photos. This pier could be considered the centerpiece of Deerfield Beach. There are lots of people around during daylight hours and the restaurants get good ratings.
Where's the Closest Fishing Pier to Me?
If you live in Florida there is probably a fishing pier close to you. The best pier may not be the one closest, so browse through these and see which one is right for you. We have huge fishing guides for all the major piers in Florida and all the top gamefish.
Sebastian Inlet Fishing Pier – this one is close to the Jacksonville Beach Fishing Pier and is well-known for big gamefish and constant action.
[Image credits: Images not marked with credits taken from their official website, unsplash, and FB pages. Featured image at top from maps.google.com.]