Welcome to our "How to Catch Florida Tripletail Fishing Guide"! We will give you all the info you need to know to find and catch (and cook) this amazing tasting gamefish in the saltwater around the Florida coast.
We'll give you tips on which bait and lure to use, as well as which rod and reel might be best. One thing to know right now? TRIPLETAILS ARE DELICIOUS EATING! They also can get to be 40 inches long, so they can fight too!.
[Page Updated – 14 August 2022. Bookmark this page (Windows CNTRL+D, MAC CMD+D) so you don't lose it.]
HOW TO CATCH ATLANTIC TRIPLETAIL FISH — Guide
Gamefish Ratings
Size: 7/10 stars 
Fight: 6/10 stars 
Difficulty to Catch: 6/10 stars
Taste: 10/10 stars
INDEX to Sections in this Guide:
---
PRO TIP – Florida Tripletail fish are also called Triple Tail, three tail, blackfish, flashers, buoy fish, buoy bass, chobie, triplefin, lumpfish, snagdrifter, and black perch. If you know anymore, let me know.
Facts
Species Identification: Family: Logotidae. Genus:Lobotes. Species: Lobotes surinamensis. There are two other fish with the same 3-tail name. The Pacific Tripletail (Lobotes pacificus) is located off the western US, Mexico, and South America. The Tripletail Wrasse (Cheilinus trilobatus) is in Asia and east Africa.
Identifying Features
Overall dark color (black, grey and brown)
Change color to match surroundings – can turn black.
Darker as they mature
Very long (unique) dorsal fin on top resembles large tail
Long anal fin also resembles a tail
Laterally compressed something like a flounder
Similar Species: Flounder, tilapia, sunfish, and snapper all look vaguely like the Tripletail fish, but the easy way to identify this fish is a very long dorsal fin that doesn't split into two separate fins.
This makes it appear as if it has a long tail on the dorsal side, the normal tail, and another longer anal fin underneath. Hence the name Triple Tail fish.
Keep in mind, you need to be something of an expert on fish identification when fishing Florida waters because the officers of the Florida Fish and Wildlife Commission patrolling the water are NOT known for giving anyone a break.
They'll write you up and probably pocket a bonus. Ignorance is not an excuse for keeping a fish you 'thought' was something else.
IUCN Redlist Status: Least Concern (LC). Lobotes surinamensis were were last assessed to be of Least Concern in 2012. They are represented in good numbers in Florida and across their range.
Note: I'm not sure if anybody else is noticing, but there seems to be a huge increase of Tripletails over the last couple of years. Is it because of COVID and fewer boats on the water? I'm not sure.
There has been a decrease in anglers out here but did that somehow immediately affect these fish?
Appearance: Dark color, similar to Nile Tilapia in appearance. Large dorsal and anal fins give appearance of having 3 tails, not just one.
Length: Over 40 inches (100+ centimeters). Typically much smaller.
Weight: Up to 40 lb. fish are possible, but it is not the norm. The average fish we catch around the Gulf side is 8 to 10 lbs.
Range/Distribution: Florida Tripletail are found throughout the Atlantic, Pacific, Mediterranean, and Indian oceans. Though not considered common throughout their range, their numbers are high in the Gulf of Mexico and so can be considered 'common' there.
They range in the United States from Massachusetts down around Florida and all over the Gulf of Mexico.
Fish on the Gulf side migrate to the panhandle area of Florida, they don't go around the Everglades and back up the East Coast.
The map below shows an approximate area where Triple Tail are located throughout the world in warm-water areas.
Habitat: This pelagic fish enjoys saltwater up to 70-meters deep. They can be found in canals, estuaries, bays, and open water. The way to target this fish is to look for anything floating on the top of the water. Trash, leaves, a tree, coconuts, whatever you can see may hold a tripletail or two underneath.
This fish typically floats sideways under something floating, or just floats on its own, resembling garbage or a large leaf. Small fish come up to the surface and hide in the shade underneath. The Triple Tail has an easy meal when it does.
Why Catch them?
Catching any fish is fun, sure. Tripletail fishing and catching is fun and challenging because you'll have to find them first. If you know where there is some submerged structure or something floating on the surface, you might be able to find some quickly.
Your presentation should be upstream and drifting downstream. Once hooked they are good at diving for structure and wrapping you around shrimp trap lines, rocks, trees, and all sorts of things.
Threetails have short strong bursts of speed and will even leap into the air to spit a hook!
Catching the bigger ones can be really exciting for new anglers. For most hardened anglers the reward comes on the dinner table as they are excellent table fare.
Where To Find Them?
Habitat –  In saltwater 1 to 70 meters deep you can find this pelagic fish species. They are fairly easy to find if you're on a boat. You can simply look for anything floating on top of the water.
Triple Tail can be under just about anything like garbage bags, sargassum weeds, any weedline, crab trap balls, floating wood, buoys, and channel markers. Pretty much the same habitat as Dorado.
This fish is easy to target and find near anything floating, but they are also under the water near structure of any kind like rocks, fallen trees, boat wrecks, reefs, or anything else. A good fish detector can spot these fish on structure under the water.
Diet – What Do They Eat?
Tripletail eat whatever they can. They are opportunistic feeders that target small fish and crustaceans primarily. Bigger fish will target adult species, and just about anything that can make it up to the ocean's surface.
Best live bait? A medium to big shrimp. Second best? Live or dead Gulf menhaden (baitfish). They also consume large quantities of crabs.
---
How To Catch?
Catching this fish is not all that difficult, but finding them usually requires locating something floating on the top of the water.
Sometimes they float on their own on the surface and if you're alert, you can find them that way. This isn't easy as they are dark and blend right in with the water color.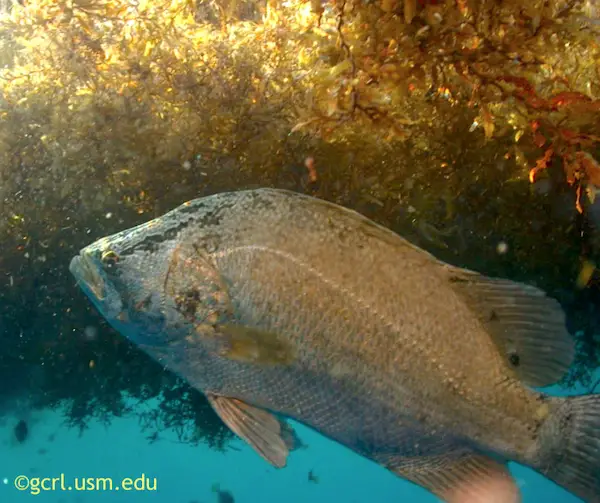 A good way to fish for Tripletail is to cast a line with a live shrimp, a live bait fish around 3-4 inches long, or a sinking lure well past the area the fish is stationary. Use a 2/0 circle hook and 4-5 feet of 20 lb. fluorocarbon leader.
Add a big bobber you can easily see right above the leader. You'll reel fast toward the fish and then when the bobber is about even with the fish, stop and let the bait fall slowly right beside the fish.
This is usually irresistible and you'll get a strike right away. Be aware, if there is any structure around, they will head immediately toward it and try to break you off. Be ready to reel as soon as you get a hard pull.
Cautions: These fish have a very sharp bony plate in front of the gills that is sharp and can easily cut your hands. In addition, the dorsal spines are very stiff and sharp and can easily puncture skin. Be careful when landing these fish.
When Is the Best Time to Fish?
Because they are found far away from shore and don't depend on the movement of water so much for their food supply, they can be caught almost anytime. Being opportunistic feeders, they are known to feed on whatever presents itself and at whatever time of day.
Avoid winter, you'll likely find many more during spring, summer, and fall months. When the water is warm, that's where you'll find this fish. In deep southern Florida, say from Fort Myers and south, you can find fish in October through December.
Tripletails have this habit of hanging around close to the crab traps, so if you know where they are, you can find plenty of 10-15 lb. delicious fish. Guides plan their trips around this time because it's easy to produce consistent takes of fish.
This fish is found in water from 15° C to 32° C ( 59° F to 90° F). Only in 2.5% of cases studied were Tripletail found in water colder than 20° C (68° F).
Gear—The Essentials
I love the Ugly Stiks for tripletail fishing. Just always used them. The medium action is my staple rod for inshore and wade fishing. If you happen to hook into a bigger one, you're going to be kicking yourself for not using a stronger rod.
For Triple Tail I like medium-heavy action rods inshore and even offshore so I know I'm ready for something sizeable.
I hate to lose small fish, but you know what? I can't stand to lose BIG FISH!
We recommend the following Medium-action rod for catching 3-tails inshore or from a small boat within a half-mile of the beach.
UGLY STIK rod at Amazon. Choose 7 foot medium 2-piece or 1-piece.
Spinning Reel?
This PENN SPINNING REEL goes with the Ugly Stik rod above. Spinning reels or baitcasting reels, no real difference, all that matters is your preference.
---
Best Reel?
Baitcasting!
I don't know, once I got accustomed to my first baitcasting reel, I never wanted to use another spinning reel. I love the feeling of the baitcasting reel. I like seeing how efficiently it wraps line.
When I see line leaving or spooling on my spinning rod I can't help get over the idea that it's wildly inefficient! That's just me. Many pros prefer spinning rods for ocean fishing. Up to you I guess.
If you do like Baitcasting Reels, here's one of my favorite rod/reel combinations for even the heaviest world-record Tripletails.
This ROD works well for tripletail fishing (with bonus of 2 rod tips – a medium heavy and a medium) + this REEL.
---
Best Line?
These fish can get heavy, and with all that fin area, they can put up a good pull when hooked. You're going to want at least 20 lb. braided line because while fishing under flotsam you can also often hook up with a mahi-mahi (dorado) and they have blistering fast runs and can really pull hard if they're big.
Here's a good 20 lb. leader that works great:
---
Best Hooks?
The best hooks (at Amazon) for Tripletail fishing are size 2/0 or 3/0 circle hooks from Mustad, Owner, or Gamakatsu. Circle hooks easily hook the mouth and are usually not swallowed. This is much better for the fish if you're going to release them. And some of them are not going to be long enough and you'll need to release those.
---
Best Triple Tail Rigs?
A simple bobber 5 feet from the 2/0 circle hook and a 4 foot leader of 20 lb. fluorocarbon works well enough to get the job done unless you hook into a real big one.
Best Lures?
Berkeley Gulp Nemesis is great for tripletail fishing. Find them here. Get some dark ones and white ones and try them. They are 6.5 inches long and big enough that the big fish you're after cannot miss them. Besides that, you're also increasing the likelihood you'll pick up a Cobia or a Dorado on that big bait. Use these eels with a 3/8″ jig head. This will sink fast as you pull it up close to the fish, and it's so big that it can't help but see it.
Tripletail Fishing World Record
The all-tackle world record for this fish was caught in Zululand, South Africa. This is an international fish that is in warm water all over the world. The massive fish weighed 19.20 kg (42 lb. 5 oz) and was caught by Steve Hand on June 7, 1989. What a nice day that must have been for him!
Florida Record
The all-tackle record (using any weight/strength tackle) is 40 lbs. 13 oz. as far as I can tell. I've seen a number of different records claimed, but this one seemed like the most reputable source. It could also be wrong!
Smallest Tripletail Fry Ever Photographed?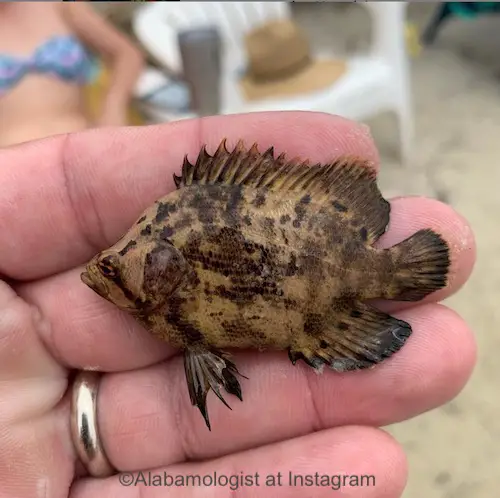 I was on Instagram the other day and this popped up. I wrote the guy and yes, it's a micro-sized juvenile! Super cute, right?
Tripletail Fishing Laws in Florida
Here is our page covering Florida Fishing Licenses. There is no special Tripletail permit required at this time.
Legal Gear for Harvesting
Hook and line only. No snatch hooks. No nets. No spearing. No multi-hooks. Singular hook only.
.
---
Florida Gulf Coast Laws
There is no specific season for Triple Tail fishing on the Gulf Coast. OPEN YEAR ROUND
Season: Open year-round.
Minimum Size Limit: 18-inch minimum measured snout to middle of tail.
Daily Bag Limit: 2 per person.
East Coast (Atlantic) Laws
Same as above.
National U.S. Waters
Same as Florida law above.
NOTE: Key Biscayne National Park has additional restrictions on Tripletail fish harvesting effective July 1, 2021. See this link for more (click tabs).
---
Get the Florida Fishing App
If fishing from 3 to 200 nautical miles off the coast of Florida, Georgia, South or North Carolina, you can use this mobile application to stay up to date on the fishing rules on the Atlantic Coast.
Farming Tripletail
Some scientists are looking into the possibility of farming this fish, but due to their solitary nature and low numbers found in schools (around a dozen), it is going to be a real challenge to make this happen.
How to Cook Tripletail Fish?
This fish is heavenly on a plate. You have to keep one or two if you're catching them.
I would only eat the fish on the smaller end of the scale, under 10 lbs. for sure. I think over the years I've just grown tired of keeping the bigger fish to eat and then being disappointed in the end.
The legal limit for them is from 16 to 19 inches, so that puts them in the right weight for good eating. You can keep a bigger one, but what for really?
The taste will be far worse and there's no point in it. Just keep the smaller slot fish and get the best eating possible.
I always kill the fish and cut the gills to bleed it out while I'm on the boat or wherever I am. Unless wade fishing. I had a bad experience that I don't want to repeat involving what must have been a big bull shark. Anyway…
Then I put my fish on ice in the boat or wherever I am. I gut them and remove the scales at the beach or dock and put them back on ice. I don't like to freeze fish anymore, but you can rest assured that frozen Triple Tail will still be better than most other fresh fish that wasn't frozen.
You may have read some of my other cooking instructions for saltwater fish here. If so, you'll know that broiling these fish is the absolute best and in my eyes, the ONLY way to eat them.
Broiling retains the flavor and original texture. Tripletail are so delicious that you don't want to ruin it. Just pull off a huge piece of foil and put it in a glass cooking plate like you'd use for lasagna.
This will keep it from burning. Crank up the heat to 500° F+ and in five minutes you'll be ready to go.
Cover the fish in salted butter, some chives, some garlic, and that's about it. Sometimes I add sliced potatoes or scallops if I have them.
Fold the foil over the fish and crease the edges to seal them. Poke the top with a fork about four times to let steam escape.
Put the glass plate in the oven on the highest rack that will fit and cook the fish for less than 10 minutes before you pull it out and open it up for a look.
The steam cooks the fish fast and depending how big the fish is, you maybe are already finished and ready to eat!
This is one fish that you'll be targeting over and over if you're a fish lover. Fish tacos. Broiled fish. Soft wraps… mmm. You'll be addicted for sure. That's how it happens!
Watch this video of guys Tripletail fishing and catching off Clearwater Beach in St. Petersburg, Florida on the West Coast.
Tripletail Guide Resources
Image credits: Various government agencies and Diane Rome Peebles at FWC.com for her amazing fish art!
More Fishing Help
We have an ENTIRE AMAZON STORE here you can browse to see if there's some shirt or other item you'd like to buy instead of these recommended boyfriend gifts.