Welcome to our "How to Catch Florida Black Crappie Fishing Guide"! Inside this guide we explain where, how, and when to catch these little freshwater fighters in Florida. You can take 25 per day, so that should give you an idea whether or not they are plentiful.
They are! Black Crappie are delicious to eat and the flesh is soft and tasty. This is one of those fish that are excellent for taking your kids fishing!
Don't miss NEW CRAPPIE REGULATIONS 14 July 2022.
The Florida Fish and Wildlife Conservation Commission met to rule on the Black Crappie fishing regulations for some major lakes in Florida. They decided to go back to the previous regs which today are again "No specific length is required and bag limit is 25 fish per day per licensed person."
This covers the following areas: Bobby Hicks Park Pond, Gadsden Park Pond, Hardee County Park, Lake Jackson (Osceola County), Largo Central Park Nature Preserve, Middle Lake, Montgomery Lake, Suwannee Lake, Walsingham Park Lake, and Watertown Lake.
[Page Updated – 2 August 2022. Bookmark this page (Windows CNTRL+D, MAC CMD+D) so you don't lose it.]
HOW TO GO CRAPPIE FISHING — Guide
Ratings
Size: 2/10 stars 
Fight: 2/10 stars 
Difficulty to Catch: 3/10 stars
Taste: 10/10 stars. I know, but I love the taste!
INDEX to Sections in this Guide:
---
PRO TIP – Florida Black Crappie are also known as specks, craps, speckled perch, and speckled crappie. If you have heard any more names, let me know!
Florida Crappie Fish Facts
Species: Genus: Pomoxis Species: Pomoxis nigromaculatus. In Latin language, nigromaculatus means with black spots.
Identifying Features
Small freshwater fish with spots of varying color on the body, tail and fins: green, brown, yellow, and black.
Almost symmetrical dorsal and anal fins.
7-8 dorsal spines (vs. 5-6 for white crappie fish)
Small mouth
Dip in forehead over the eye
Similar Species: The fish are panfish, so it resembles them and sunfish of all kind.
IUCN Redlist Status: LC – Least Concern. Crappie is well represented throughout its range in Florida and other US States. There are no restrictions in place but the 25 fish limit per person per day.This is a fast growing fish that reproduces quickly in large lakes.
Appearance: These are small panfish that resemble bluegill and many other panfish and sunfish in freshwater.
Length: Usual length for this fish caught on lakes is between 8 and 12 inches. Maximum length: 19.3 inches. (49 cm). Typical length is 10.8 inches (27.5 cm).
Weight: Usually less than 14-inches long and 2 lbs. Anything bigger is eligible for the Florida Big Catch program (certification).
Range/Distribution: The natural habit of Black Crappie fish covers most of the area of the eastern USA in freshwater rivers and lakes but it has become hard to distinguish native habitat from where it has been introduced.
Since the fish is so sought after among anglers, there have been extensive programs to spread the fish to major water bodies in all US States.
Crappie (indigenous or non) are now found in these states: Arizona, California, Colorado, Connecticut, Delaware, Idaho, Illinois, Kansas, Kentucky, Maine, Maryland, Massachusetts, Minnesota, Missouri, Montana, Nebraska, Nevada, New Hampshire, New Jersey, New Mexico, New York, North Carolina, North Dakota, Oklahoma, Oregon, Pennsylvania, Rhode Island, South Dakota, Texas, Utah, Vermont Virginia, Washington, West Virginia, Wisconsin, and Wyoming.
Habitat: Clearwater areas of lakes and rivers are the best places to go Crappie Fishing. They vary their depth considerably (benthopelagic), so don't give up if you're trying one depth and not catching anything. Lengthen the distance between your float and the hook. Go deeper, go shallower.
If the crappie fish are not on the shore in their nests around 3-8 feet deep for breeding from February to April then they're out looking for small fish and other prey and can be quite far from the shore.
Crappies seem to prefer slow-moving water that is cooler than what you might think. Crappie require cover of some sort most of the time, and can be found around live vegetation, fallen trees, rocks, and other debris both natural and artificial over mud or sand.
Temperatures preferred: Subtropical 57°F – 88°F (14°C – 31°C). pH required: 6.0 – 7.5.
Fishing World Records
The all-tackle IGFA crappie fishing world record comes from Tennessee where a lunker speck was caught by Lionel Ferguson that weighed over 5 lbs.! 5 lbs. 7.68oz. to be exact. Ferguson caught it at a friend's pond called "Richeison Pond", in Loudon County.
It was caught on rod and reel on May 15, 2018. The fish was genetically tested to be sure it wasn't a hybrid, and it was found to be a pure black crappie. Nice fish!
.
Florida Crappie Fishing Record
The biggest one ever caught in Florida occurred at the big Lake Talquin in Gadsden County just west of Tallahassee and the fish was 3.83 lbs.! Ben Curry, Sr. is credited with the record. He caught the huge speck on January 21, in 1992. That's a big one alright. Crappie rarely reach a weight over 2 lbs.
Why Catch them?
Crappie fishing is as fun as any other panfish and sunfish fishing. Ideal for kids because a child can handle putting a minnow on the hook and casting it out… and retrieving a small fish.
These fish rarely reach more than 2 lbs. and are easy to handle. My first fishing trip involved bluegill, they're basically the same thing but crappies get bigger and fight a little harder.
Why Do So Many People go Crappie Fishing?
They're thinking about dinner! Crappies are excellent table fare and can be caught in decent numbers so they can feed your entire family. At Thanksgiving. You can keep up to 25 in a day, so that should be enough to throw some fish down everyone's throat, no matter how big your family.
Where To Go Crappie Fishing?
Probably all rivers in Florida hold crappie. I've been able to find them at any river I ever tried to catch them in, including small rivers like Tampa's Hillsborough River.
They can be in canals, streams, ponds, lakes, reservoirs, rivers… just about anywhere, to be honest.
In the map below, you can see that specks are all over Florida and most eastern US states. Map showing distribution of Black Crappie in brown. From IUCNRedlish.org.
Some of the best fishing spots for black crappie fish include:
Orange Lake, (Alachua County). Specks anglers are catching them primarily in the north and south ends of the lake. This is located about 15 miles south of Gainesville in northern Florida.
Ochlockonee River / Lake Talquin (Leon, Gadsden and Liberty counties). This is a few miles west of the state capital, Tallahassee.
Lake Kissimmee, (Osceola and Polk counties). Like in most lakes, the best way to catch Crappie in this lake is by free-lining minnows from a boat or the shore. Hotspots are around the C-37 canal and near Brahma and Bird Islands near channel markers seven and eight.
Lake Placid. In the middle of the state, this one is about 75 miles south of Lakeland.
Lake Okeechobee. This is just west of West Palm Beach on the east side of Florida. A massive lake, there are all kinds of freshwater fish represented here.
Lake Marian, (Osceola County). Lake Marian has anglers trolling small fish and minnows near Jordan Slough and 4-mile Point. Small jigs can be used when the specks are spawning because they'll attack anything that comes near their nests.
In 2020, anglers caught specks at the rate of 2.6 per hour on average, that's a very high rate of catch and Lake Marian is not a place you should miss if you're able to get there to fish. This lake is located between Lakeland and Vero Beach.
Diet – What Do They Eat?
Crappies are piscivorous, meaning they are carnivorous and eat almost entirely small fish. They also enjoy a varied diet of crustaceans, small fish like minnows, and aquatic insects and larvae and some insects found on topwater. The best live bait to use for specks is definitely small minnows, and even bigger-sized minnows.
When Is the Best Time to Fish?
Fishing freshwater lakes and rivers, the moon phase is not all that relevant, so when is the best time to go Crappie fishing?
Morning or around dinner seems to be best. Insects wake up in the morning and start moving around in the water and in the air, landing on top of the surface of the water and becoming breakfast for fish.
So, I like early morning better, before the sun rises but the evening can also be very productive.
The absolute best time to fish for crappie fish? Midnight to 2 am. Not joking. These are primarily nocturnal fish, but of course few would be caught if they weren't also available in the daylight hours.
Gear—The Essentials
Crappie fishing is just like fishing for any small fish in the freshwater environment. A small 1000 to 3000 level spinning rod from Shimano, Penn, or Daiwa will work well. Use 10 lb. test monofilament like this Trilene line and a Light action rod.
Fish small plastic worms with jig heads, live worms, or minnows for the best results. Free-lining them without weight is to me at least the most fun way to fish and results in the most natural presentation.
Crappie Fishing Laws in Florida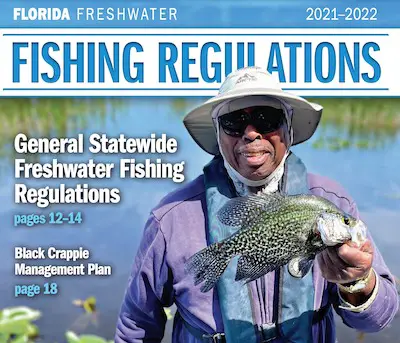 Because these fish are so prolific and they've been put in many locations by state officials, and all over the USA by now, there are few rules about the species. They are in good numbers, and always have been to my knowledge.
You still need a fishing license to drop a line in the water, so you should check out the license info below.
License Requirements
Here is our page covering Florida Fishing Licenses. There is no special Pompano permit required.
Legal Gear for Harvesting
Hook and line, cast net, and beach or haul seine only. No gigging, snatching, or spear-fishing allowed.
---
Florida Gulf (West) Coast Laws
There is no specific season for Black Crappie on the Gulf Coast. OPEN YEAR ROUND
Minimum Size Limit: No minimum set.
Daily Bag Limit: 25 per person.
East Coast (Atlantic) Laws
Minimum Size Limit: Same as Gulf Coast.
Daily Bag Limit: Same as Gulf Coast.
---
Get the Fishing App
If fishing from 3 to 200 nautical miles off the coast of Florida, Georgia, South or North Carolina, you can use this mobile application to stay up to date on the fishing rules on the Atlantic Coast.
Farming
Florida crappie are delicious and easy to catch, but they're not farmed much because they are a very small fish compared to something like a redfish or tuna.
How to Cook Crappie?
With such a small fish, the only way to get any meat out of them is to broil the entire fish. Scale it. Gut it. Clean it off. Leave the head. Stuff the belly with lemongrass and add butter, a bit of oil to the glass tray so the fish doesn't stick, and throw a piece of foil on it.
Puncture the foil a couple times with a knife point and put it in the over to broil, on the top shelf.
They are thin fish and they'll cook fast. Be careful not to overcook them. At 500°F they'll not take more than 8 minutes.
Resources
More Fishing Guides with All You Need to Know
We have an ENTIRE AMAZON STORE here you can browse to see if there's some shirt or other item you'd like to buy instead of these recommended boyfriend gifts.