There's something magical about surf fishing on the beach and it isn't only the fishing. It's the view. It's the being AT the beach. It's the people that walk by and ask questions, some of whom stay for an hour to watch you catch something (hopefully).
Surf fishing is fun enough, but you can at anytime call it quits and lay down on a towel and sleep on the beach for two hours if you want to! One of the easiest ways to fish for sure.
Advantages of Surf Fishing
Surf fishing is convenient. You can quickly throw stuff in the truck and go fish after work. Or, have your stuff in the trunk, change in the cab, and drive straight to the beach if it's close by.
Cover more areas than from a pier if you want to walk some distance. It can be easier to park and drag your stuff only 50 yards to the beach than dragging it 300 yards down a fishing pier.
See and feel the water from the shoreline. You can sight fish at times.
Shore fishing is never crowded. I have never fished at a crowded beach!
When I'm fishing from the beach I'm usually targeting pompano or redfish. Both are exceptionally good eating and they're not that hard to catch if you follow some simple rules.
It's easy to roam around or throw everything back in the truck to cruise down the beach a little ways and see if there's something biting down there.
The best thing about surf fishing is the convenience of it. You can go with one lure and rod and stand at the beach tossing it in to see what you get. No need to get fancy.
Disadvantages of Surf Fishing
Nowhere to put a stringer of fish except right in the surf where your fish will get a mouth full and belly full of sand as the waves come in.
It's difficult to get out into deeper water. The slope in Florida is often very shallow and you may not get more than a couple of feet deep with your farthest casts.
Risk of stingray tail barbs in the foot if you walk into the water. Wear thick-soled shoes.
Even more sun exposure you probably don't need if you live in Florida.
To be honest, I don't surf fish very much. I really prefer the kayak and piers in the area and I can't remember catching anything amazing from shore since I caught a couple of massive snook down in Ft. De Soto park in St. Petersburg.
It was winter was coming in and the snook were visible in certain spots close to the bank.
Is Surf Fishing Dangerous? Maybe not as much so as wade fishing.
Read about how I almost KILLED my girlfriend while wade-fishing in Florida >
There isn't much specialized equipment for surf fishing, and as I've said you can go down to the beach with a 7 foot rod and baitcasting reel and throw your artificial lure until you catch dinner and then go home. It could be that easy.
Surf Fishing Gear
I typically bring some gear when I go because I really prefer live bait. Live baitfish like small Pinfish or other small baitfish are best I find.
Cast Net
A cast net while surf fishing is essential in my book. I can use artificials, but man do I prefer live bait when I can get it and I can almost always get it by throwing a net a few times.
Your cast net will pay for itself over and over for years. Assuming it lasts for years. Get a small one (5-6 feet) and learn how to throw it anywhere – in your yard or go directly to the beach.
Rinse it after every use and you'll get more life out of it. I think the sun is the worst degrader of mono in the nets, not the saltwater, so make sure you give it at least a good rinse, and store it out of the sun when not in use.
Pinfish Live Bait Bucket
I'll usually bring a 5-gallon plastic bucket down to the beach. It will have my cast net inside and probably an array of essential hooks, sinkers, floats, and line in a plastic box with compartments.
My surf rod is a 7 foot UglyStik. My surf reel is one of the Penn baitcasting reels. I can't get much distantce casting from the sand so I always walk out to about waist deep and throw as far as I can from there.
Then I walked back in to the beach and I plant my rod in the rod holder I have planted in the sand like the image below.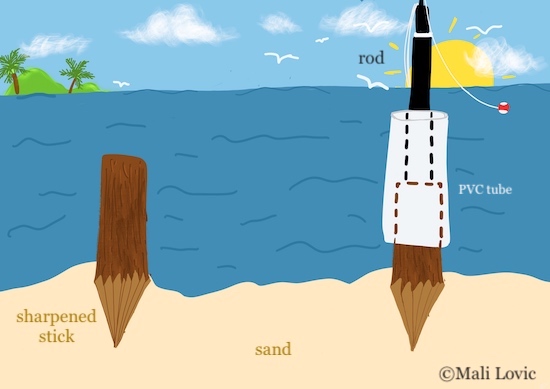 Fishing Vest
Some people like the idea of a fishing vest. I don't use one unless I have to and that's only when I'm in the water wade-fishing. Otherwise I'm not that aware that it's there and I'm snagging myself on hooks in the vest! Sometimes I leave pockets open and sinkers spill out. I'm just not great with a vest!
Backpack
I do usually bring a backpack with some more tools like needle-nose pliers, some bandages and Band-aids and stuff. I'll bring a hat, sunglasses, some freshwater to rinse off with.
Some Gatorade or something to drink. I almost always have a bag of pistachios in my bag so I don't get dinner cravings and have to leave fishing too early.
Artificial Lures
I always have a few DOA CAL's (a soft white plastic shad) with a red jig-head (1/8 ounce), DOA Shrimp and at least a couple of DOA Crabs in dark brown and clear as well for any redfish that may be lurking around. No matter what kind of fishing I'm doing.
I also love the old floating Rapala minnow lures of like 4 inches. I've caught more fish on those than probably any other. I mean freshwater and saltwater, the things are just magic because they look so much like a little bait fish.
I also ALWAYS have a few GOTCHA Lures on me.
Why? Jacks! Crevalle Jack or some other fish that might hit a fast shiny lure. The Gotchas can be pulled through the water very fast and this excites some fish who can't help themselves and strike them.
I've had the good fortune to catch Bluefish, Jacks, Spanish Mackerel, and Permit, on these lures so they always make it into the backpack or plastic box.
A Better Rod for Surf Fishing?
A better rod to go surf fishing with is a massive 11-14 foot rod that can launch your live or dead bait out far into the breaking waves.
You can get so much more distance with a very long rod and some weight on the end of it. You'll increase your chances because you'll avoid some of the smaller bait stealers that tend to be in close to shore.
Here's a rod we found at Amazon that is a 4-piece graphite rod with ceramic inserts on the guides – which means good for braided line. It's very affordable and 9 feet is a good length, but they have other lengths too. Have a look >
If you are fishing for big fish, you should get a 6000 level spincasting or baitcasting reel on the bigger end.
Surf fishing often leads to shark catching if you're fishing the bottom with cut bait or a slow live bait, so a 14 foot rod that isn't very heavy and strong is going to disintegrate before your eyes if you hook a 100 lb. shark. Such are the choices you have to make when deciding which rod and reel to use at the beach.
The best thing to do is to get a reel with a strong drag system, and one you can cast very accurately. I always go with Penn Baitcasting Reels.
I think you would too if you used them for a month and realized how good they feel in the hand. I've been using them for over a decade and I have never been disappointed. They must have some stellar quality control at the company.
What to Wear While Surf Fishing?
Wear a wide-brimmed hat that's light and has a chin-strap. The sun can be hot, especially from noon to 4 or even 5 pm. Florida direct rays are strong enough to go through most clothes. Use a hat with sun protection of 50+. If you're bald, you might throw on some sunblock on the old dome too.
50 SPF+ Long-sleeved shirts are good. North Face makes some I was able to find for $20 on sale one time. A good sun blocking shirt that is super lightweight is great to have. Heck, I'll even take a photo of me wearing mine here in a minute.
Or, this HUK shirt is 30 SPF if you have skin that doesn't easily burn and you want some sun to get through.
Surf shorts. I mean, play the part, right? I've seen visitors from Canada in their underwear surf fishing, but I don't recommend this. Good Fishing Waders are waterproof and you can stay dry in the water. I've literally never bought a pair but some people love them. When it gets cold you might wish you had a pair. I remember wade fishing at times when the water was so cold that after a couple of hours my legs and feet had gone numb.
Sunglasses with 100% UV protection and polarization are a nice item to have but they can be expensive for good ones. Maui Jim's are insane, aren't they? Still, I've never used better than those!
Where to Go Surf Fishing?
I would almost say you can go surf fishing anywhere in Florida, but that's not really true. What you'll need to do is start trying different spots out. If you've seen someone fishing a stretch of beach consistently, you can bet there's probably something there for you to catch.
Surf Fishing Can Be a Social Event!
I have met more people while I was surf fishing than I have fishing from a pier. On a pier, you're probably too close and it's weird to talk to people. At least I think so. It feels like I'm competing with people I'm next to at the pier. You probably feel the same way. It's like you're all trying to win!
In contrast to that, while surf fishing any person that passes by may pop you a question. Everybody is curious about what you are fishing for and whether you catch anything whether they ask you or not.
If they are walking along the beach it may take them a couple times of passing you before they finally decide to ask you what it is that you're catching.
Of course many people at the beach are anglers themselves and they are curious whether they might come down to the same beach and catch some fish later when you're not there.
One time I even met a girl I ended up dating! I was at St. Pete Beach with my fishing rod doing some lazy beach fishing when I saw this stunning girl walking along the beach toward me.
I asked where she was from, and it wasn't all that unexpected when she said "Montreal." Canadian visitors to Florida happen all year around but especially when the harsh winters come and they're seeking some relief in sunny Florida.
We dated for a month while she was vacationing and I took her to Key West on a camping and fishing trip. She wasn't very into it though! I had to get rid of her quick! Sorry Laurence!
My Favorite Place to Go Surf Fishing?
My favorite to go surf fishing isn't in Florida. It's in Hawaii on the island of Kauai. But let me think. There must be a favorite place in Florida.
Ah, yes. I got it. Ft. Lauderdale during spring break. I mean, talk about social! Lol. No really, the entire east coast is much better for surf fishing than the Gulf coast. Not sure why that is, but I always catch something on the east coast fishing from the shore. Not so in the Gulf!
The ocean is stronger on the east coast. More wild. I think it holds a lot more swimming fish of size and fun than does the Gulf coast.
My Favorite Fish to Catch While Surf Fishing?
They're tough to find and catch, but if you can see some bonefish, you've gotta make the effort to catch one. They're wiley and smart and they can see you coming if you're anywhere nearby. They're super skittish. Read our huge Bonefish Guide here to see how to go about catching these incredible fish.