Also called Offshore Fishing, deep sea fishing in Florida is some of the most fun you can have. The fish are bigger off shore and the adventure is all the more real as you're bobbing up and down in the middle of nowhere, no land in sight and catching food for your dinner. What a life!
Common Deep Sea Fishing Questions
How Much Does It Cost in Florida?
On average around Florida you can count on paying between $125 and $200 per hour for deep sea fishing rates with six anglers onboard. In Destin, Florida the average cost for a charter is about $180 to $200 per hour for up to 6 anglers. For inshore fishing on a flats boat, or other small boat, the average cost is $100 to $150 per hour.
On Florida's EAST COAST it seems like it should be cheaper because it is much easier to access deep water, but property and dock fees are higher so the rate is around the same. Prices vary, and with COVID you are going to find some nice discounts.
There has never been a better time to fish offshore than right now if cost is any consideration. (Update – with COVID, gas prices are high! Better to pier fish or wade-fish, to be honest)
What Can You Catch from a Boat in Florida?
Florida has more than 40 species of fish you can catch while fishing. The top ten prized fish you can catch are King Mackerel, Mahi-Mahi (Dorado/Dolphin), Spanish Mackerel, Snapper, Grouper, Amberjack fish, Tuna, Marlin, Wahoo, and Sharks.
You'll need to carefully target the fish by taking into consideration the season, moon phase, tide phase, breeding schedule, time of day, proper bait and lures, proper rod and reel, depth of water, baitfish in the area, and other factors. Who said it was easy?!
Is It Dangerous Fishing Offshore on a Boat?
Only for the fish. Just kidding. Accidents can happen, as anywhere. Extremely rare, but a scary scenario is when you hook a swordfish or billfish and it launches itself out of the water straight toward you on the boat.
Swordfish and sharks are especially dangerous, so extreme care when you know you have one of these fish on the line is called for.
Other dangers are alcohol poisoning if you're drinking too much, hooks embedded in skin, slipping, cuts with knives or gaff or other sharp instruments. Don't forget, your boat could sink and that could be a real nightmare!
Every year at least a few people die of heart attacks while fishing deep water on a boat. The hospitals are far away, so it's dangerous in that sense. This style of fishing is highly exciting, so take it easy if you're at risk!
Is It Worth the Investment?
Many anglers think it is well worth the money and high-dollar investment. This depends on you. If you enjoy inshore fishing and have had a chance to go out on a boat for some deeper water fishing and you enjoyed targeting some of the other species that are found while deep sea fishing, it might be perfect for you.
Good Penn reels and rods can cost over $1,000 USD. They'll last forever, but still, you might see this as a major investment. There is a lot you'll need to do deep sea fishing right. See our Fishing Gear page here for some suggestions for deep sea fishing gear.
How Far Out (How Deep) Do You Need to Go?
The NOAA (National Oceanic and Atmospheric Administration) define 'Deep Sea Fishing' as at least 20 miles away from shore. Some anglers say it's when the water is over 30 meters (33 yards) deep. That's about right.
On Florida's West Coast – boats need to go about 70–100 miles west to reach water deeper than 50 meters (55 yards).
On Florida's East Coast – within just a couple of miles of the shore boaters can reach 50 meters and deeper water. This means a whole lot less gas!
Does Everyone Get Sick while Out Fishing on a Boat?
Not everyone, no! But, getting nauseous is common while boat fishing offshore because the fishing boats are made to cut the waves to travel long distances at some speed so you can get to your fishing spot quickly. Once stopped, it rocks a bit because the boat has a V-shaped hull that isn't so steady.
So, anglers are rising and falling with the waves and rolling with them. There is usually some sort of wave action while fishing, so people often get sick.
Suggestion: Dramamine or some other motion-sickness control pill can help. So can experience, for most people.
Are Deep Sea Fishing Tours Fun for Kids?
It can be VERY fun for children, but keep some things in mind. There should be little to no waves. Nothing. Flat ocean. No seasickness. Barfing over the rails can ruin a kid's day, and yours too!
Fish for snapper, not grouper. Grouper can pull your kid overboard (or they'll just lose a rod). They won't find it fun to have something pulling with 80 lbs. of pressure on the line.
If your child is under 12, just go Pier Fishing instead!
Do Day Tour Boats have Restrooms?
Usually there is a restroom (head) where anglers can go to relieve themselves. If not, a quick pee overboard for men, or a pee in a cup situation and dumping it overboard is usually quite acceptable. Accomplishing a #2 on the deck of a boat, trying to aim for a styrofoam cup is NOT advised!
What Should I Wear for a Half-Day or Full-Day Tour?
Deep Sea Fishing List of Things to Bring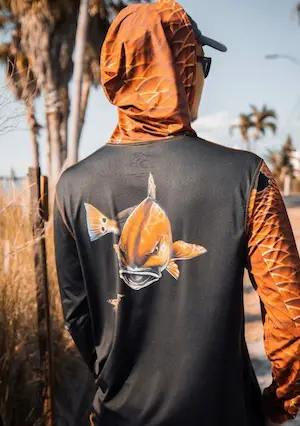 Wide-brim Hat for your head, ideally with flaps in the back to cover your neck. Make sure it has a chin-strap because wind might blow it off.
Long-sleeved Lightweight Shirt with 50+ sunblock protection. Being on the boat for 5-12 hours in the sun can destroy anyone's skin. Ensure you have a good shirt and sunblock.
Shorts and a change of shorts and underwear if you don't like standing around in wet clothes. You'll inevitably sit on a wet spot and you might want to change.
Hiking Sandals like Teva style, or closed-toe running shoes with a rubber bottom are best. The boat deck can be slippery at times.
Polarized Sunglasses are great to have to cut down on the glare off the water, which gives some people a headache.
Waterproof Camera! If you have it, don't forget it. Leave it in a shirt pocket and be ready to take photos of fish that you're going to quickly let go because you won't be seeing them again. Especially if you have kids with you, take lots of photos and give them a memorable day so they come out again.
Raincoat. A fitted top is best, but a poncho will work if necessary, it will just make it difficult to maneuver around the boat and you'll probably catch a few hooks with your poncho!
Waterproof Dive Bag – 10 liters or so is probably big enough, but get as big as you need to keep your things dry.
Towel. Or two.
Cooler! Collect your fillets when you're done!
Cash! Bring some cash to tip the guys on the boat for helping you catch fish. It's expected and not included in the charter fee unless specifically stated. How much tip is enough? 15-20% of the charter fee is typical.
First Aid? Usually the deep ocean fishing charters will have a good first aid kit onboard with anti-bacterial creme and plasters/band aids to cover up any cuts.
Bottled Water and Juice. Rehydration is important when you're on the water sweating and you may not be paying attention to how much liquid you're taking in, especially if drinking alcohol. Bring water or your favorite drinks, even though the charter is supposed to provide it.
Snacks! The charter will almost surely provide your lunch and/or dinner, but it's a great idea to bring peanuts or some other calorie-filled snack to munch on as you fish.
Mobile Phone and extra battery bank. Just in case, you know?
List of Things NOT to Bring
Hard Liquor. Unless you clear it with the charter Captain, don't bring hard liquor. There will likely be beer, and it's hard to get completely wasted and belligerent on just beer. A drunk angler can be dangerous to others, or at the very least, annoying! Oh, and don't bring drugs. Checks by Marine Patrols can find that and result in huge fines and/or imprisonment.
Big or Multiple Coolers. You'll need just one cooler to fit your catch after filleting, so don't bring a huge cooler or more than one medium-sized cooler.
Expensive Electronics or a lot of Cash If you're on a boat with fifty other people and you paid $50 for a half-day of off-shore fishing there is probably someone on the boat who would take your expensive item or cash, if they had the opportunity. If you charter the boat with your friends, then you probably don't need to think about it.
---
Offshore Fishing Photos (email us to add yours)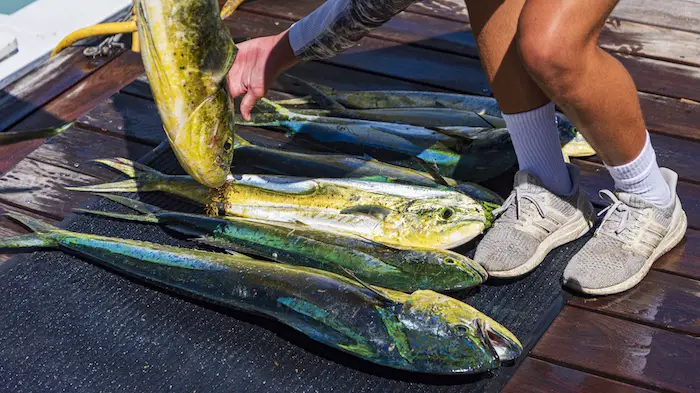 ---
Florida Fishing Charters
If you operate a deep sea fishing charter in the State of Florida and you would like your business listed here, contact us for our very affordable rates. Or, link to this page with a followed link and email us.
More Fishing Help
We have an ENTIRE AMAZON STORE here you can browse to see if there's some shirt or other item you'd like to buy instead of these recommended boyfriend gifts.