Featured image above: An amazing transformation occurs when Coho salmon are ready to spawn – their mouth deforms and they turn brilliant red. If you want to learn about where to catch salmon this year – read on!.
Where are the Best Locations to Catch Salmon in the USA?
[Page updated 26 July 2022]
Some of the best spots for catching salmon (sah-min – don't pronounce the 'l') are in Alaska and Canada. But, the good news is, you don't have to go that far to catch salmon!
In fact, no matter where you live in the USA – you can basically head north and find a place with salmon during some part of the year. Know what? There are even salmon in South America!
They were introduced in some parts and fished and farmed in SA now.
Atlantic and Pacific salmon breed yearly and follow specific routes from the ocean up through small channels – streams – to larger lakes where they mate and lay eggs.
Pacific salmon die shortly after mating and egg-laying. A small percentage of Atlantic salmon may live to spawn another season.
Salmon season is chosen by State Fishing Organizations to maximize the populations of salmon in their waters.
The length of the season depends on the runs salmon make up the streams and rivers. Some states may shorten or eliminate salmon fishing for an entire season to help populations recover.
Below we've listed 12 of the most beautiful and best places to catch salmon!
Salmon Species in Salmonidae (Salmonid family)
Atlantic salmon, Salmo salar
Chinook salmon, Oncorhynchus tshawytscha
Chum salmon, Oncorhynchus keta
Coho salmon, Oncorhynchus kisutch

Masu salmon, Oncorhynchus masou
Pink salmon, Oncorhynchus gorbuscha
Sockeye salmon, Oncorhynchus nerka
There is perhaps no more dreamed-about fishing trip than taking big salmon in Canada and Alaska. Once you get "Salmon Fever" you're going to have to start planning your trip because the idea is not going to leave your head until you just GO DO IT!
So many anglers are keen to catch salmon on a fly. Field and Stream magazine has given us thousands of photos over the years that have made us believe that catching salmon is one of the most amazing experiences on earth. And you know what? It definitely is.
Not to mention – a succulent salmon on the dinner table is enough to make everyone gush. Salmon is one of the most unique-tasting fish on the planet, and the texture, the taste, the thick flesh – all of it combine to make mouths water.
Where to Catch Salmon in the United States?
Let's start with the East Coast since many of you won't know there is such an option. When we think about salmon, the scene that comes to mind is almost always a rushing stream set among the massive snow-covered mountains of Alaska. However, you can fish and catch salmon right on the east coast too.
East Coast
Maine
Atlantic salmon are found in the Atlantic Ocean and landlocked freshwater areas around the state of Maine in the 10-20 inch range. Though you can catch them – they are listed as an endangered species by the United States Fish and Wildlife Service.
The taking of Atlantic salmon on the coast or from landlocked waters in Maine is forbidden. The laws are not likely to change anytime soon, they are not having great results with restocking the Connecticut River, once a great place to catch salmon in Maine.
When inadvertently catching an Atlantic salmon in Maine, you must not remove the fish from the water, gently remove the hook and let the fish go immediately.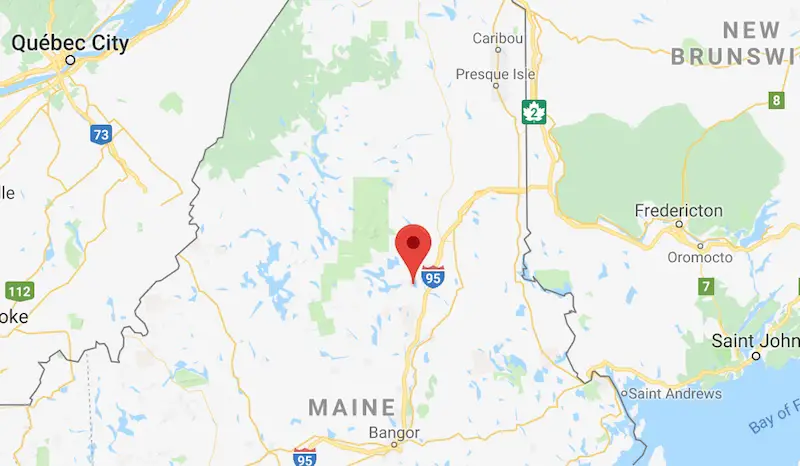 West Branch Penobscot River in Maine is an exceptional salmon fishing spot that found its way into all the fishing magazines. Lodging fills up quickly, you may have to book two years in advance.
The river is the longest river in Maine, stretching some 350 miles. There are some deep spots, and fishing is excellent. One spot you should visit is the area from Ripogenus Dam to Abol Bridge. This is an excellent fly-fishing salmon spot packed full of landlocked Atlantic salmon.
If you're really into Fly Fishing – how about a Fly Fishing ONLY section of Rapid River, Maine?
Catch and release as many salmon as you wish, but you can only keep one. Of course, check out the salmon fishing regulations for whatever place you are fishing because laws change frequently. Rapid River comes out of Umbagog Lake and offers very consistent salmon fishing in Maine – one of the best spots, so it does get booked up quickly.
Atlantic Salmon Conservation Organizations
Finding Salmon in Eastern Great Lakes (New York, Pennsylvania, Ohio)
King salmon, silver, and pink salmon are caught on some of the great lakes and their tributaries (feeder streams) in the New York and Pennsylvania shores. Lake Erie and Lake Ontario are perfect to get your feet wet catching salmon – and stoke the fires for when you plan your big trip out to Alaska or the Pacific Northwest.
Lake Ontario in New York holds Atlantic and pink salmon, which is what anglers target while there. Lake Erie also has some Atlantic salmon, but not anything like the abundance that Lake Ontario has.
There are state and federal organizations stocking the great lakes for years, and finally, salmon fishing is picking up and flourishing. It should only get better in years to come.
See our complete index about "How to Catch Salmon" here >
Read our article about "Salmon Fishing Laws in North America" here >
Best Salmon Fishing in the Mid-Western Great Lakes (Ohio, Michigan, Indiana, Illinois, Wisconsin, Minnesota)
Lakes Huron, Michigan, and Superior are where Pacific coastal salmon were first stocked after the second world war. Chinooks, Coho, Pink, King, and Sockeye salmon have been relocated into these great lakes – and most have thrived.
To be honest, if at all possible, you should plan a trip to one of these western great lakes instead of Lake Erie or Lake Ontario. The size and number of fish in the midwest great lakes make it worth the extra distance you'll travel.
When fishing on the open water from boats, you'll drop your bait deeper – usually trolling with downrigger setups to keep the bait close to the bottom where the big salmon are.
Michigan and Wisconsin have hundreds of small rivers and streams where you can target salmon using spoons and other crankbait. Fly fishing is popular in the fall at these same rivers and streams.
Pacific Coast Salmon Fishing
Maybe you've already fished some of the Great Lakes for salmon, and you had the best time of your life. Or, maybe you haven't gone salmon fishing yet, and you want to make sure you have an amazing experience.
Well, the ultimate in USA salmon fishing is out west. Seriously. If you want to catch salmon as large as 50 pounds – just start saving your change, and head west at your earliest convenience.
Where to go in the Western USA for the Best Salmon Fishing?
Head straight for the Columbia River in Oregon. It's near the border with Washington State. It's a long river that holds tons of big salmon.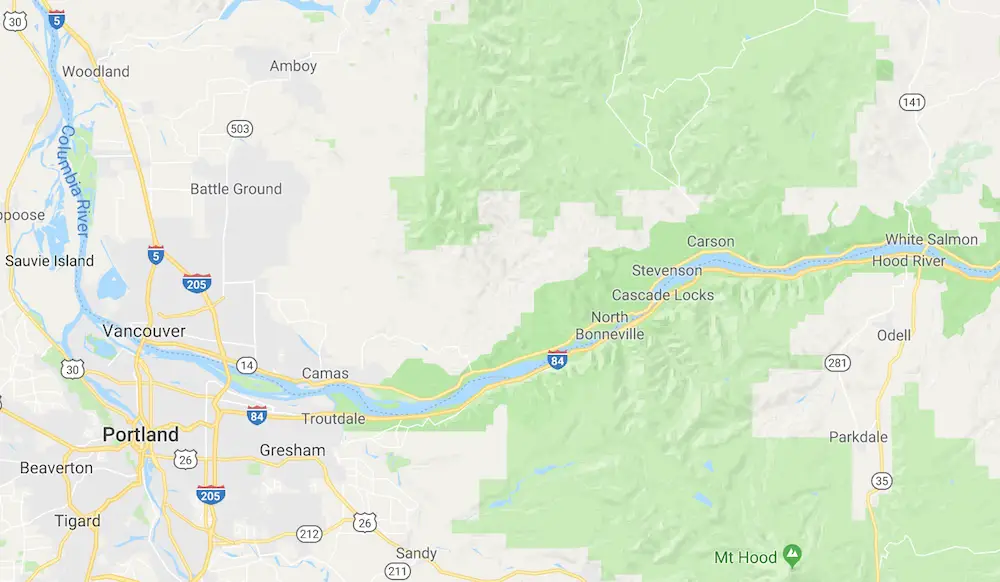 If ocean fishing is more your style, anywhere along the coast of Washington, Oregon, and northern California from Mendocino and north – can be very productive. King salmon – the big boys – can reach around 50 lbs. and put up a heck of a fight.
Ocean fishing for salmon isn't limited to kings though, there are also plenty of pinks, chums, sockeyes, and silver salmon all along the coast and in the rivers of the northwest.
In the northeast US, salmon anglers are targeting fish in the 10-20 inch slot range. In the northwest, you'd better bring yourself some bigger gear and plan on landing a much bigger fish overall.
Another place to find salmon?
South Dakota – of all places!
One spot that has been touted as a great place to find salmon, is "Lake Oahe" near the Cheyenne River Reservation in the central area of S. Dakota state.
Lake Oahe is a man-made reservoir just off the Missouri River. The lake has some deep spots of around 205 feet and holds a couple of species of stocked salmon.
Best Alaska Salmon Fishing – the Ultimate Fishing Vacation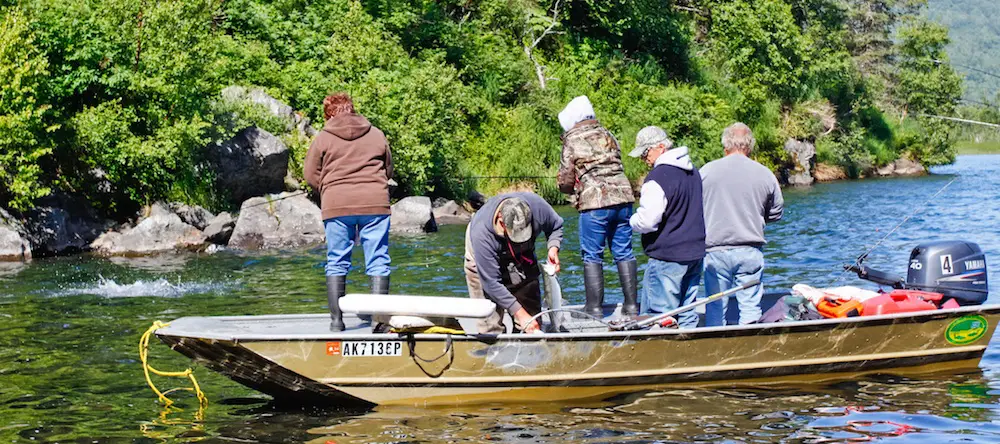 Alaska is where most people think of when they think about salmon. Big king salmon jamming the small tributaries leading into big lakes where spawning takes place. Bears swiping salmon out of the water up onto the bank and eating them raw in a 4K video for National Geographic photographers.
Alaska is one of the last true wilderness frontiers in America. It's just a good thing it's American and not Russian, right?
Where to go in Alaska for mind-blowing salmon fishing action?
Katmai National Park and Preserve, of course.
In Google Maps it's described as "Brown bears & sportfishers love this vast, active volcanic area for its abundant salmon."
They got that right!
Why is Katmai so great for salmon?
First of all, for salmon fishing in Alaska, you're not relying on stocked fish like you are in many parts of the USA. The salmon in Alaska are following the same streams, and rivers, and find the same lakes to breed in year after year.
MILLIONS of salmon are making the run from the Bering Sea up the small streams leading up into the arms of Naknek Lake at Katmai National Park and Preserve.
King Salmon Record for Alaska? 126 pounds!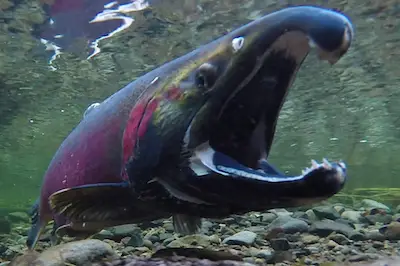 The landscape is stunning in this part of Alaska, and each year tens of thousands of Americans and people from all over the world make the trek to Alaska to enjoy a week (or more if fortunate) of catching amazing Pacific salmon of all types.
To reach Katmai, you fly out from Anchorage on a small plane – round-trip costs around $500 USD (2018). Lodging at one of the fully-equipped resorts is around $1,000 USD per day if staying at least 4-5 days.
When is the Best Time to Book a Lodge in Katmai for Salmon?
Because you're going to be paying a lot of money, you might as well come when the salmon are running. In general, tour bookings are best reserved for the middle of June up to the middle of September.
Best months for King salmon? Late June through the end of July.
Best months for Sockeye? Middle of June to the end of July.
Best month for Silver Salmon? August.
The best month for Salmon fishing if you are not partial to which species you're catching? Come during the month of July.
Finding Salmon in Inland Lakes
The following are some notable lakes holding salmon in states not mentioned yet in this article. Many state fishing organizations will stock salmon in lakes they know will hold them. Have a look below and see if there might be a body of water near you holding salmon that will pacify you until you're able to get up north.
Best Spots for Colorado Salmon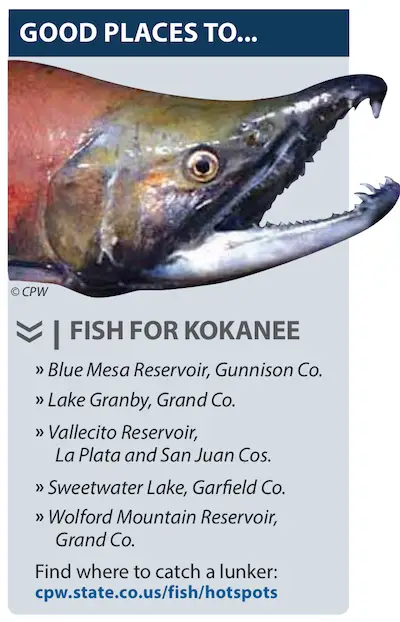 A landlocked species of sockeye salmon is the Kokanee salmon, and it's very popular in Colorado where it is stocked in some high numbers. Here's a list of waters where you can find it (image right).
Keep in mind, for all fishing spots there are detailed lists of rules and regulations for catching fish of all kinds. Here is a PDF download filled with information about Colorado fishing regulations.
Other well-known and productive spots to fish for both Chinook and Kokanee salmon in Colorado:
Carter Lake
Dillon Reservoir
Eleven Mile Reservoir
Grand Lake
Green Mountain Reservoir
Gross Reservoir
Lake San Cristobal
McPhee Reservoir
Morrow Point Reservoir
Ridgway Reservoir
Ruedi Reservoir
Shadow Mountain Lake
Spinney Mountain Reservoir
Taylor Park Reservoir
Williams Fork Reservoir.
Best Salmon Fishing Locations in Wyoming for Kokanee Salmon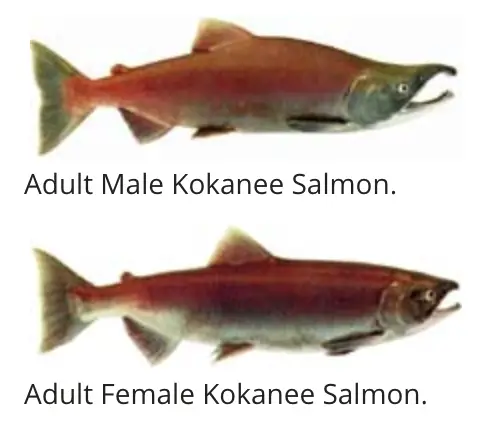 Kokanee (Oncorhynchus nerka) is a native species in some of the land-locked lakes and reservoirs in parts of North America. Kokanee salmon are land-locked sockeye salmon. They are blue-green on top, with generally silver sides.
Male Kokanee salmon are without spots. In the fall of the breeding season, the females turn bright red/orange with grey and white. Males turn deep red and mouths distort – into the classic hooked sockeye style. Kokanee generally eats abundant plankton.
Biggest Kokanee Salmon in Wyoming? A salmon of 24 inches long and 6.04 pounds was caught in Flaming Gorge Reservoir.
Kokanee Salmon
Hotspots in Wyoming for Kokanee Salmon?
Flaming Gorge Reservoir
Fremont Lake
Granite Lake
Boulder Lakes
Utah Salmon Fishing
There are two main spots for fishing stocked lakes for Kokanee salmon in Utah:
Flaming Gorge Reservoir – far northeast corner of Utah
Strawberry Reservoir – north-central Utah
Rivers Holding Salmon in the USA
Montana
Eureka, Montana's Tobacco River. They even have a salmon festival you can join in.
New York
Forty miles north of Syracuse, the Salmon River runs from New York into Lake Ontario – the easternmost great lake. Salmon River is named properly, as there are some big salmon running the river every fall.
Two world-record salmon have been caught here – Coho and Chinook (both arriving in August). There are also Atlantic salmon (July) and steelhead that makes a run in October and stays until April.
One campsite you might try is the Salmon River State Forest. There are plenty of other accommodations if you don't fancy sleeping at a campground.
Book Your Salmon Fishing Lodging EARLY!
As with any salmon fishing you do – remember that the best spots are going to book solid a year in advance. Salmon fishing is no joke – and people plan their year around it so they can get the best spots at the right time.
You should too if you're interested in catching the most salmon possible.